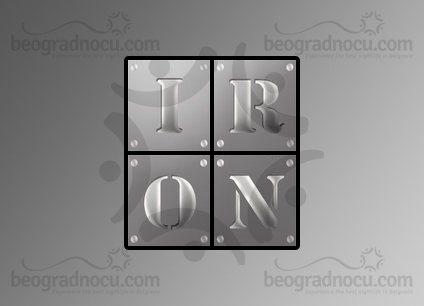 Obilićev venac 24
Beograd, Stari grad

09:00h - 01:00h

Pop / House

160 People
Interior
Beograd Noću
Cafe Iron is famous cafe, where Belgraders could enjoy in afternoon coffee as well as in the evening. It's located in downtown, at very popular location, at No 24 Obilićev Venac Street, near hotel ''Majestic''.
With its specific and pleasant ambient, cafe Iron allows its guests a possibility of relaxation at the beginning of day with wide selection of hot drinks., but also a quality entertainment in the evening with various spirits and professional bartenders.
Cafe Iron is unique juncture of relaxation and elegance, so different profiles of people will find their sanctuary here. With its original and modern interior, that is subordinated to your maximum pleasure, cafe Iron is a perfect place to go out with your friends, or even go on a date or maybe business meeting. Carefully selected choice of mainstream and house music will transform from daily routine into something new. However, if you decide for night out at cafe Iron, you will find wide selection of program suitable for everyone. On Thursday night you can listen to some of best live bands in Belgrade. Quality selection of songs will make your night here perfect even until 1 am in the morning. But if you prefer electronic sound, on Friday and Saturday in cafe Iron Dj pult will be shared by many popular Djs in Belgrade.
What makes cafe Iron different from others is concept of parties called ''10 for 110'', that are held once a week. 10 shooters by your choice (rakija or vodka), for 110 rsd for one table. Cafe Iron accommodates 180 people and with friendly staff, wide selection of drinks excellent choice of music is definitely a place Belgrade was waiting for.
Make sure to visit cafe Iron that will become your routine once you do.
---
Reservations are mandatory.
You can make a free reservation using our call center or the online form.