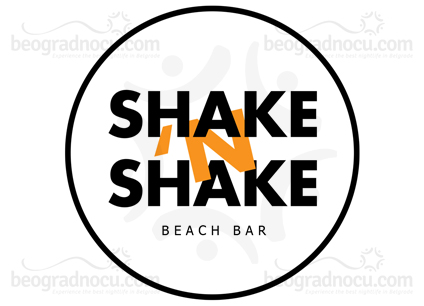 Ušće bb
Beograd, Novi Beograd

10:00h - 05:00h

Pop / Rock / Disco / R'n'B

800 ljudi
Interior
Beograd Noću
At the confluence of Sava river into Danube, oasis of perfection is located and everything you ever wanted and didn't know how to describe it. Besides it awakes your imagination and reveals your most hidden passions, this place leaves you speechless, so it's a little bit crazy just to write about it, you just have to feel Shake 'n' Shake.
The name of this beach bar speaks for itself. There is a lot of symbolism, starting with delicious cocktails that will totally delight you and reveal you a completely new dimension of taste. Deck chairs, spacious bar, thatched roof... you have to admit that just with reading these lines it smells like something relaxing and ideal, and at the same time at something tempting and hot.  During a day in Shake 'n' Shake you will be able to get away from noise and daily rush, but at the same time be in centre of attention.
Club Shake 'n' Shake is ideal for gossiping with your friend, but as well as for good book... Sure thing is that club Shake 'n' Shake is favorite place for people with distinguished taste and true hedonists. Relaxed atmosphere, cocktails that will tickle your imagination and prepare you for unforgettable nights, very positive crew, a lot of laughter and of course beautiful girls are just a part of what bar Shake 'n' Shake has to offer. Peace that you can experience during a day along with sunset evolves into extremely good energy with top Dj performances, as well as fantastic live band experiences. All that you can experience only in club Shake 'n' Shake.
If you are eager to enjoy with beautiful girls not ashamed of their bodies and dancing on bar, this is just the place for you. If you want to drink a little more, if you want to enjoy in kissing and laughing, without sight of disapproval, you will fit in  perfectly here. Club Shake 'n' Shake awakes your true nature and allows you to unleash your instincts for maximum pleasure.
Why Shake 'n' Shake? There are so many reasons...  First, it's time to "shake up", to loosen up and lighten your mood. Of course, this is preceded with well known phrase "shake a leg", respectively get up, run up and be ready for intimate "handshake" with your buddies, but also for beautiful girls that will shake just for you whole summer. So, get rid of bad mood and forget about your problems with unique bar  Shake 'n' Shake that radiates with positive spirit of hot summer nights.
If you don't believe us, James Bond definitely knows his words: "Shaken, not stirred!"
Club Shake `n` Shake
Average rating:
1 reviews
Sep 8, 2021
Najjaci splav u gradu, steta sto ne radi vise, sjajno mesto, najbolji provodi!
---
Reservations are mandatory.
You can make a free reservation using our call center or the online form.
Galleries - Club Shake `n` Shake
Mapa - Club Shake `n` Shake