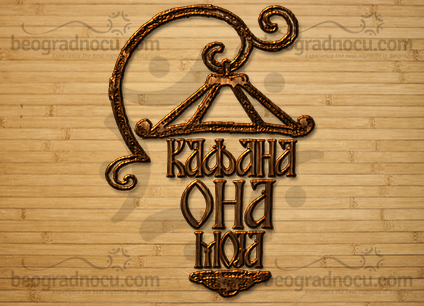 Bulevar Kralja Aleksandra 77
Beograd, Zvezdara

22:00h - 03:00h

Pop / Folk

350 Ljudi
Interior
Beograd Noću
Tavern Ona Moja.  - All lovers of bohemian life know that winter is the time when summer version of tavern Ona Moja Na Vodi is moving into Vračar in most popular tavern in Belgrade, tavern Ona Moja. Tavern Ona Moja is located at No 31a Vojvode Šupljikca Street and it's ideal place for those  who like bohemian night life.
What makes tavern Ona Moja different from others are special atmosphere, tradition of low prices and unbelievable comfort that exudes  trough this tavern. Extremely quality music program, makes tavern Ona Moja one of most wanted taverns in Belgrade. Music genre is mostly pop and folk, but depending of guests's mood, music adjusts.
In tavern Ona Moja you can drink, dance as much as you like and even have philosophical conversations. One sure thing is that you will not make mistake. Tavern Ona Moja accomodates 300 people and has wooden interior and tables with plaid sheets, special illumination, so you will not want to leave this place. Tavern Ona Moja is ideal if you want to celebrate some special moment, or maybe grieve or party all night long. Saying is: ''If it's properly used, tavern is best place in world.'' And tavern Ona Moja just wants to be - perfect place for you and for some of those it already is.
Tavern Ona Moja has very professional staff, impeccable service and very affordable prices. Here you will not have to think about your wallet and you can drink all night all kind of wines, beers, spirits and rakija. With wide selection and satisfied guests, this tavern is inevitable.
Tavern Ona Moja is opened five days a week and for your bohemian pleasure it's opened from 10 pm to 3 am. Reservations are mandatory because of great popularity of this tavern.
Tavern Ona Moja
Average rating:
1 reviews
Sep 7, 2021
Best place in Belgrade!
---
Reservations are mandatory.
You can make a free reservation using our call center or the online form.
Galleries - Tavern Ona Moja