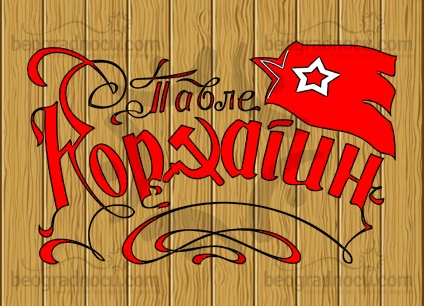 Ćirila i Metodija 2a
Beograd, Zvezdara

20:00h - 01:00h

Pop / Folk

110 Ljudi
Events
TUESDAY 06. June
Coka i Rade od 20h
WEDNESDAY 07. June
Coka i Rade od 20h
THURSDAY 08. June
Brigada bend od 20h
FRIDAY 09. June
Danubius acoustic od 20h
SATURDAY 10. June
Mala maca bend od 20h
SUNDAY 11. June
Nacionalno jelo Madagaskara - Henakisoa sy amalona; Goran Banderas od 18h
MONDAY 12. June
Mala maca bend od 20h
Interior
Beograd Noću
Tavern Korčagin is one of the old taverns new generation. It's opened for more than a decade and all that time was synonym for best parties in taverns.
It is located near Vukov monument, at No 2a Ćirila i Metodija Street.
In tavern Korčagin you can stop by with full bags on your way from market and take a rest with a cup of coffee in god company. In tavern Korčagin you can hear all kind of stories, talk to people and whole time you wont worry about your wallet since prices are very affordable. Younger population that comes here, fully accept ideology, while the elders nurture it.
Tavern Korčagin has very authentic and unusual interior. Red-white-blue colors of communism are dominating, with lot of ethnic elements. Picture of guards, brigades from work activities and all of those that cannot be forgotten - Stjepan Filipović, Ljuba Čupić... Pictures of Josip Broz Tito, hammer and sickle, pointed star, flag and coat of arms, will bring back the elders into their youth and thought the young ones about old time.
The interesting thing is that all that things are brought in tavern by guests. But, while somebody brings, the others take away and steal, ''People give, people take away'', so the setting of tavern is changing depending on visitors.
Tavern Korčagin is a place where you can always have a god meal. On menu you will find unusual and unique offer, such as, ''If only my mother could see me'', ''God bless you'', ''Daliborka Stojšić leg''.
Tavern Korčagin
Average rating:
1 reviews
Sep 8, 2021
omiljene zurke su mi u ovoj kafani
---
Reservations are mandatory.
You can make a free reservation using our call center or the online form.
Galleries - Tavern Korčagin