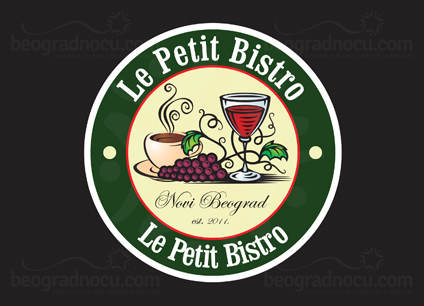 Klare Cetkin 12
Beograd, Zemun

09:00h - 01:00h

Lounge

70 People
Interior
Beograd Noću
Cafe Le Petit Bistro is ideal place to relax with a cup of coffee, carefully made by professional bartenders and served to awake all your senses. Cafe Le Petit Bistro is located at No 12 Klare Cvetkina Street at Novi Beograd. It represents beautifully decorated place with modern interior and specific illumination that will tickle your imagination. Colors that are prevailing in cafe Le Petit Bistro are dark wood, red and off-white with very interesting green details.
Cafe Le Petit Bistro accommodates 70 people and service here is on extremely high level. Here in cafe Le Petit Bistro are making cup of coffe just for you. Also, ultimate bartenders can recognize what kind of cocktail you like and make it especially for you. Therefor, in cafe Le Petit Bistro professional bartenders can make cup of coffee just by your taste. Reward your senses with unique and refined taste of most quality coffee in the city. Every cup of coffee is is for of art for itself and you will recognize at a fist sip.
Cafe Le Petit Bistro is just the right choice for your morning coffee that will wake you up in best way and help you start another day. This is definitely best option if you like to have a casual talk with your friends or maybe go on date with your special someone. In every cup you can find foam made heart, smiley or another interesting detail that will make your day or even for moment make you feel better. However, if you are not fan of coffee products, but you would rather try something decaf, since with or without alcohol cafe Le Petit Bistro has wide selection of drinks for you at very fair prices. This place is subordinated to your pleasure, staff is very friendly and service is impeccable. You should definitely visit cafe Le Petit Bistro and enjoy in perfect taste of coffee! Even after first visit, this cafe will become inevitable for you.
---
Reservations are mandatory.
You can make a free reservation using our call center or the online form.
Mapa - Cafe Le Petit Bistro