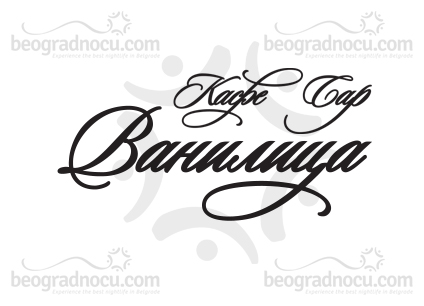 Kralja Milutina 53
Beograd, Vračar

08:00h - 01:00h

Pop (on Fridays acoustic guitar)

80 People
Interior
Beograd Noću
Cafe Vanilica is the sweetest thing you will taste, this charming place creates the sweetest possible taste of night life that can be compared to vanilla taste that only true masters know how to make.
Cafe Vanilica is cafe of future, interior is bathed in warm chocolate vanilla stitched with perfect lightening aspire only the best in you. Here everything is great and all your desires comes true. This cafe accommodates 80 people and here you can enjoy in sound of pop music from 8 am to 1 am. Cafe Vanilioca has beautiful booths and table that are giving really romantic look to the whole concept. Everything is perfect and tasteful like vanilla.
Prices in cafe Vanilica are your best friend. With carefully selected menu you can enjoy in vivid memories and flavor of childhood drawn into futuristic filter of urban spirit, because cafe Vanilica will tickle you with delicious snacks. It's different from others. Cafe Vanilica is present in sea of choices, the sweetest bite that will sink you like good evergreen hit. Cafe Vanilica is your oppressive need the be the sweetest, because unique sense of unity will give you this cafe. Come to No 23 Kralja Milutina Street to cafe Vanilica and spend unforgettable moments.
---
Reservations are mandatory.
You can make a free reservation using our call center or the online form.