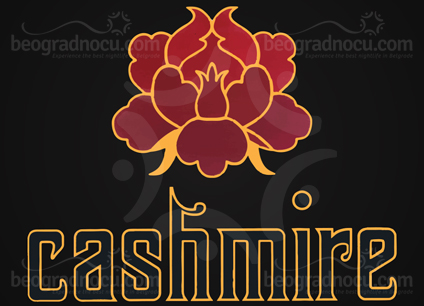 Strahinjića Bana 57a
Beograd, Stari grad

09:00h - 01:00h (evening hours from 21:30h)

Pop / Rock / Latino

200 People
Interior
Beograd Noću
Restaurant Cashmire is located in Silicon Valley, at No 57a Strahinjića Bana Street.
By extravagant name  Cahmire you can tell that Mediterranean and international specialties has made a slight move toward Orient.
Synonyms for this exceptional restaurant are sophistication, charm, extravagance... Since Cashmire is synonym for good taste.
Start your mornings with freshness and optimism, day with enjoyment and nights with happiness and excellent music. Every night in restaurant Cashimre, from 9:30 h until 1 am, you can expect superb music program. Before night out in town you can stop by in restaurant Cashmire an experience amazing food and drink.
Restaurant Cashmire is giving a full attention to good atmosphere and precisely because of that carefully selected music will make your night unforgettable.
Restaurant Cashimire is expecting its guests with special pleasure. With their presence, spirit and charm guests of restaurant Cashmire make this restaurant a special place.
In pleasant ambient of restaurant Cashmire that exudes with style and comfort you can enjoy in top offer of exclusive wines and amazing cocktails.
Beside magic of Mediterranean cuisine you can also be prepared for surprises that chef will make especially for you. Wide selection of international dishes, taste of Orient will leave mark in your mouth and you will never want to become regular guest.
Interior of restaurant Cashmir is unique.. Quality designed furniture, design and architecture leave guests speechless. Besides beautiful interior in restaurant Cashmire you will feel really comfortable and cozy. Classic bar tables, boots and VIP lounge are part of interior. Small details and red color  are giving a touch of good taste and visual balance of with great mood.
Do not miss amazing offer that restaurant Cashmire has. Almost every weekend, restaurant Cashmire offers different promotional prices as well as special theme nights that will absolutely delight you. Because staff of this restaurant is thinking about your wallet as well as quality.
In restaurant Cashmire you can organize private celebrations, birthdays, conferences, whatever you need. If you like to experience restaurant and club in one, stop by in restaurant Cashmire. Visit this great oasis and experience unforgettable moments.
Restaurant Cashmire
Average rating:
0 reviews
---
Reservations are mandatory.
You can make a free reservation using our call center or the online form.
Mapa - Restaurant Cashmire