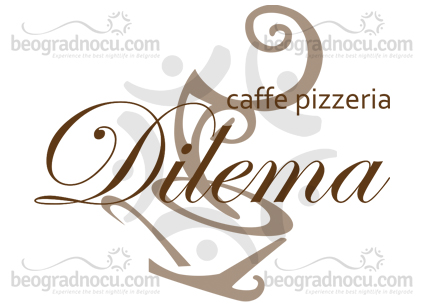 Ada Huja bb
Beograd, Palilula

08:00h - 01:00h (on weekends to 02:00h)

Pop

350 People
Interior
Beograd Noću
Restaurant Dilema is located at Belgrade Ada Huja bb, right next to pedestrian zone. This place is combination of cafe and pizzeria for people who like to enjoy in nature with food and drink.
Interior of Dilema gives away one impression, while exterior gives another. Quiet object of wooden logs with stone driveway and greenery and large summer garden with bridge and fountain fits with Danube landscape. You will have an expression like you are in ethno village and you will definitely enjoy in beautiful nature and view. However, entering a restaurant you will have totally different impression. Unrelated with exterior, interior of restaurant Dilema is modern with contemporary styled plaster work, lamps and leather furniture. Whole interior exudes with luxury and has two levels. Plasma TV's are built into every corner of local, so you can always watch sport events, news and other happenings. Furniture is in black and white combination, while upstairs you can find few sofas in color. Whole object is naturally lighten as the walls are consisting of big windows.
Near restaurant Dilema there is children playground, with numerous props so you don't have to worry about your child and his inexhaustible energy.
Menu of restaurant Dilema is Italian based menu but with Serbian breakfast. For first and most important meal during a day, you can eat omelet with pancetta or sirlion with salad or cheese or maybe home made bread, kajmak or doughnut. For main meal you can enjoy in Italian specialties "Belgrade capricciosa" and "Capricciosa alla Romana" . First pizza is classic capricciosa while the other has Italian ingredients: smoked ham, artichokes and prosciutto.
Most raw materials such as flour, peeled tomato and other ingredients are from Italy, so quality is crucial. Dozen types of pasta is made by the taste of people from this region so they consist more sauce and meat. Some of them are with stake, frutti di mare and salmon. As far as for salads, here you can try Tuna salad, Salad with steak, Caesar salad, Capricciosa salad and many other. As for deserts you can treat yourself with tiramisu, profiteroles, panna cotta, cheesecake and different kinds of pancakes. Beside standard drink mane in restaurant Dilema you can try delicious cocktails and shakes. Here Lavazza coffee is served. Vines are from Tikveš and Radovanović wineries.
In restaurant Dilema during a day you can listen to peaceful tones, while at the evening the music is more rhythmic and loud. During winter on Friday, theme parties are organized. So do not miss, come to restaurant Dilema and relax and enjoy yourself after long working day.
Restaurant Dilema
Average rating:
1 reviews
Sep 7, 2021
Odlicna hrana i pogled! Uvek rado posetimo ovaj lokal!
---
Reservations are mandatory.
You can make a free reservation using our call center or the online form.