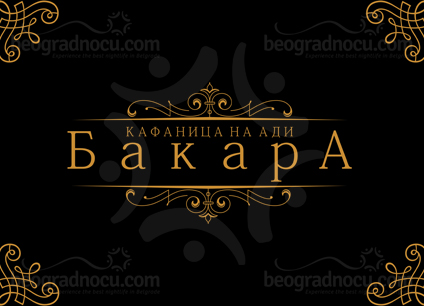 The left coast of Sava lake
Beograd, Čukarica

23:00h - 04:00h

Pop / Folk

100 People
Beograd Noću
Tavern Bakara is very popular tavern for night out, as well as for daily fun. It's located at left shore of Savsko jezero, between soccer courts and tennis courts.
Tavern Bakara is unique juncture of elegance and sophistication, as well as bohemian spirit. Tavern Bakara is an ideal place for fans of night life, great music and beautiful girls. Music genre in tavern Bakara is mainly pop and rock, but quality and enjoyment of guests are most important. On Friday and Saturday in tavern Bakara you can expect live bend performances and songs that will keep you at your feet all night long.
Interior of tavern Bakara is remarkable and keeps up with world architectural standards. Special accent is on acoustic of this space which is additionally contributing to your pleasure.  Also another special thing about tavern Bakara is endless respect towards guests that are always gladly returning here, in best tavern in Belgarde. One dance in tavern Bakar and you will realize that feeling is incomparable. In tavern Bakara is opened until 4 am for your pleasure and you can experience best night life and atmosphere you will remember. Interior is subordinated to your maximum pleasure, so there is no bad place in tavern and wherevere you are, you will be in center of attention.
Besides all conveniences above tavern Bakara is famous by having very affordable prices among all taverns. With very little money you can here you can have maximum fun. Here you have wide selection of drinks, staff is very professional and service is high quality. Tavern Ona Moja accommodates 100 people that makes this place even more exclusive. In intimate atmosphere you can experience best night life. You have to see for yourself why.
Tavern Bakara
Average rating:
0 reviews
---
Reservations are mandatory.
You can make a free reservation using our call center or the online form.