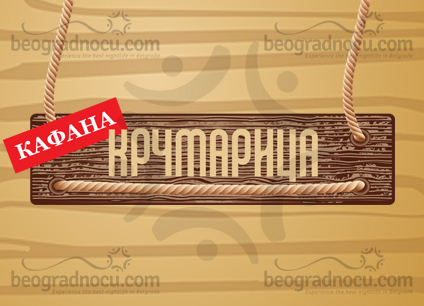 Višnjićeva 9a
Beograd, Stari grad

21:00h - 02:00h

Pop / Folk / Traditional music

200 People
Beograd Noću
Tavern Krčmarica is located at place of former club Scandal in downtown at No 8 Višnjićeva Street. This is one of places where you forget about your worries and just want to relax and party. Come to tavern Krčmarica so you can enjoy in great music, polite staff and amazing atmosphere all night long.
Tavern Krčmarica is place that exudes with bohemian tradition of old times. Whole place is completely redecorated into areal tavern, with plaid sheets and handicrafts like real authentic tavern. In this rustic interior there are wooden tables and chairs, some hang lanterns on walls and materials are mostly wood, brick and wallpapers in natural colors. This is gathering place of all generations, but young ones also are expecting history of tavern and cherishes it.
Tavern Krčmarica has amazing atmosphere, even though you come here alone you will leave it with at least two or three best friends. Ina tavern Krčmarica many friendships and relationships occurred. Tavern Krčmarica is ideal place if you want to drink with your friends or just debate with them like true bohemians.
Affordable prices and wired musicians can guarantee good time. Tavern Krčmarica has wide selection of drinks. All homemade kinds of rakija: melon, cherry, apricot, honey and many others. For wine lovers you can find most delicious wines in tavern Krčmarica, as well as domestic and foreign beers.
Tavern Krčmarica accommodates around 200 people and music is mostly pop, folk and traditional music. Tavern Krčmarica is also ideal place for birthday parties, engagement parties, celebrations and other important events.
With sound  string instruments you can party as never before! Be sure to visit tavern Krčmarica, where you can enjoy like true bohemian and without worrying about your wallet.
Doors of tavern Krčmarica are opened for you every day. In pleasant ambient and bohemian atmosphere and in great music and party until early in the morning. Come and see for yourself, or even better with your friends.
Tavern Krčmarica
Average rating:
0 reviews
---
Reservations are mandatory.
You can make a free reservation using our call center or the online form.