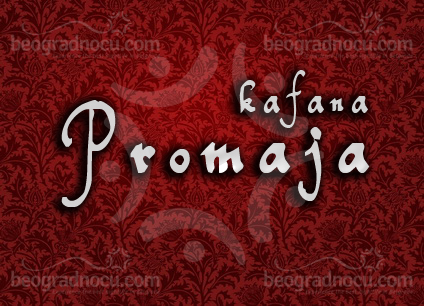 Karađorđeva 8a
Beograd, Stari grad

22:00h - 03:00h

Pop / Folk

350 People
Beograd Noću
Tavern Promaja is located in one of most beautiful locations in Belgrade in Karađorđeva Street, near Sava port and Brankov Bridge. The location is in heart of Belgrade and long time experience in hospitality are enough, so you can expect a perfect nigh out.
Tavern Promaja is very spacious with pleasant ambient and accommodates 350-400 people. Every day you can expect some surprise, because in this tavern everything is allowed.
Tavern Promaja never sleeps, so you are always welcome. Music is never turned of, drink is constantly pored and dancing never stops. Here you can relax and enjoy in live band performances and different drink whose prices are completely adjusted to your pocket. In wide selection of drinks spirits, you can also enjoy in amazing regional and domestic wines.
At the end, we can conclude that tavern Promaja is  right place for people who like bohemian atmosphere. Make sure to visit this place and  convince in all the above. You only have to make your reservation on time and provide for yourself and your friends an amazing fun on high level.
Tavern Promaja is working until local is emptied and guests are always leaving it with anticipation of next time. This tavern with impeccable work and constant improving of service is threatening to become a leading place when it comes to bohemian night life. Come and see for yourself.
Tavern Promaja is also fusion of restaurant and tavern. It's one of rare taverns that during a day is becoming a restaurant with very affordable prices where you can enjoy in idyllic ambient  and national and international dishes.
So, do not think to much and head of in direction of tavern Promaja and create memories that will you cherish all your life.
Tavern Promaja
Average rating:
1 reviews
---
Reservations are mandatory.
You can make a free reservation using our call center or the online form.