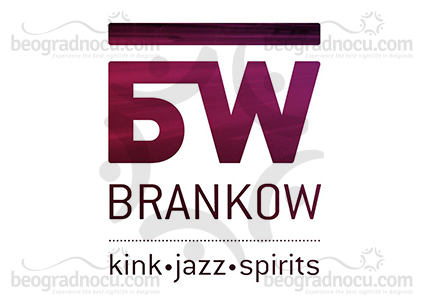 Crnogorska 12
Beograd, Savski venac

19:00h - 01:00h

Disco / Funk / Pop / Jazz

300 People
Beograd Noću
Brankow Bar  is located in the heart of the Belgrade. Precisely on the spot where the old downtown and Novi Beograd are connecting.
The bar is a combination of urban and avanguard. The architect Đorđe Gec who designed this bar has also designed clubs "Tube" and "Mladost". The bar's interior is a combination of Berlin, London and New York styles. Concrete and glass. Wood and leather. Long bar counter and boots beneath concrete arches.
Thousands of broken mirror chips scattered all over the ceiling reflect the atmosphere, bar counter and guests. A real game of lights and shadows. The fact that a British expert, who has elite London restaurant "China White" among his references, was hired to set up the bar counter tells us that nothing in this bar is created by chance.
Totally different from the others, Brankow Bar   has won the affection of a numerous fans of a Belgrade nightlife. It is due to, among other things, rich music program based on jazz, funk, disco and pop rhythms. After the live performances follow famous Djs who disco and jazz sounds combine with current, 80s and 90s music hits, on Thursdays, Fridays and Saturdays.
The garden-terrace is opened every weekday from 7 pm. Beside rich selection of alcoholic and non-alcoholic drinks, guests can order food from Sushi Box restaurant's menu.
Brankow Bar
Average rating:
0 reviews
---
Reservations are mandatory.
You can make a free reservation using our call center or the online form.