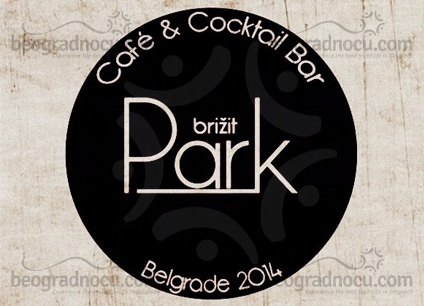 Strahinjića Bana 57
Beograd, Stari grad

09:00h - 00:00h (on weekends to 01:00h)

Pop / Diesel / House / R'n'B

100 People
Beograd Noću
Brižit Park Bar  complements a bar scene in Belgrade in very original and modern way. This urban place is located in most popular Street, Strahinjića Bana No 57. Brižit Park Bar  can accommodate 100 people, that will have an opportunity to enjoy in modern rhythms of  pop, diesel music, house and RnB, bringing you a great mundane spirit to capital's Street.
Brižit Park Bar  is very nicely decorated place, modern and urban, mostly gathering a city crew who can recognize a  quality entertainment. Brižit Park Bar  offers you an opportunity to enjoy great music program, beside top service who knows how to provide you an unforgettable stay in this pleasant bar. Brižit Park Bar  is just the place that lacked Belgrade, so your time in most popular street is even more beautiful, desirable and urban.
Brižit Park Bar  has an outstanding selection of drinks, including  the most distinguished cocktails, that are fantastic. Brižit Park Bar  has already become famous for its Cocktails Nights, that is very popular among famous persons that know hot to recognize the quality of Brižit Park Bar . The outstanding offer of this bar, similar to mundane places is truly magnificent. At this bar, you can come by around 9 am and drink your first morning coffee and enjoy busy Belgrade story taking place in front of you. Brižit Park Bar  is an ideal opportunity for new flavors, since menu of this bar is very rich, diverse and ideal for busy lifestyle of capital. Interior of this bar is fabulously fitted together place, with warm colors and just right illumination, following the perfect city story that gathers the best crew in town. Brižit Park will remind you about friend gatherings from your favorite TV Shows, and you might wish to spend unforgettable moments right in this bar. An you will be right, because Brižit Park Bar  is a one perfect story keeping up with time. Welcome!
Brižit Park Bar
Average rating:
0 reviews
---
Reservations are mandatory.
You can make a free reservation using our call center or the online form.