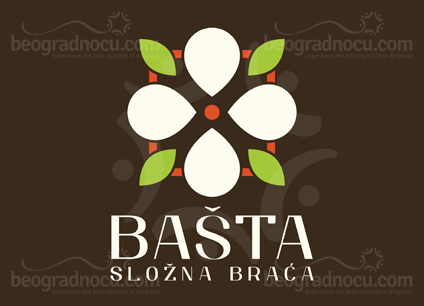 Vojvode Dobrnjca 34
Beograd, Palilula

10:00h - 00:00h (on weekends to 01:00h)

80 People
Beograd Noću
Složna Braća Bar is located at the same location as tavern Složna Braća, in downtown of Belgrade, at No 34 Vojvode Dobrinjca Street. Entrance of Složna Braća Bar is right next to the entrance of tavern, and in this bar you can also expect tradition of low prices and perfect service.
Besides affordable prices adjusted for everyone's pocket and great ambient, in Složna Braća Bar you would be able to watch all games from World Cup, as well as games from upcoming events on large flat screen located in centre of bar.
In Složna Braća Bar there is wide selection of drinks and special accent is on rakija - most quality one in the city! Make sure to taste it!
All fans of tasteful berr, rakija and vine, in Složna Braća Bar you would be able to enjoy listening to best music. Here you can organize private parties for your special days. Složna Braća Bar promises you great party and nothing less.
Složna Braća Bar will continue to impress young people with great fun, as well as tavern. Pleasant space for larger and smaller companies, pleasant staff, memorable atmosphere, fantastic music are only some of numerous qualities of recently opened Složna Braća Bar.
At the entrance of Složna Braća Bar you will have an expression like you have departed  to seaside and you can feel heat and be able to rest your soul - we all need it. In this garden there is no bad seat . Excellent surround system will provide you to hear music in every corner of place.
Složna Braća Bar is opened every day from from 10 am until midnight and until 1 am on weekends. Složna Braća Bar can accommodates 80 people.
Most important things are friendly staff, affordable prices and best atmosphere in town - only in Složna Braća Bar.
Složna Braća Bar
Average rating:
0 reviews
---
Reservations are mandatory.
You can make a free reservation using our call center or the online form.