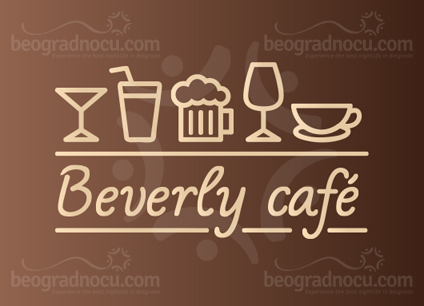 Palmotićeva 25a
Beograd, Stari grad

08:00h - 00:00h (on weekends to 01:00h)

Pop / Rock

40 Ljudi

Pet friendly
Interior
Beograd Noću
Cafe Beverly is unique cafe in capital, tucked in most beautiful part of Belgrade, Palmotićeva Street, where you can in best way experience life and soul of Belgrade.
Cafe Beverly exudes with hospitality, warmness and affability that allows you to relax and enjoy from obligations and spend time with your dear people. Take a time to drink a cup of most delicious coffee and have unforgettable time. Cafe Beverly is extremely elegant and offers perfect daily option even for most fastidious one. Whether you come to morning coffee or an afternoon enjoyment, cafe Beverly offers you everything you want and inspires you at new ideas. Inspired with ritual of enjoyment in manner of french bistro cafe Beverly offer ingredients for sophisticated life style. For start of day try a perfect cup of strong espresso. Cafe Beverly has wide selection of soft drinks and spirits, as well as delicious deserts. An in the evening you taste is put on trial with various kinds of cocktails and other alcoholic drinks.
Friendly staff of cafe Beverly is always ready to serve you in any sense, whether it's about refreshing drink,a fantastic sweet, relaxed music or just a casual talk. In cafe Beverly everything is completely subordinated to your hedonistic enjoyment, from smallest details to interior itself, so everyone should come and experience it in own way. Old fashion furniture and small details have shown how much attention is given to designing this interior and all because of your pleasure. Very chic with spirit of Paris and comfort of whole ambient. In cafe Beverly wood dominates in interior as proof of uncompromising quality. Service that follows this ambient leads to perfection.
Cafe Beverly has great garden in peaceful part of Belgrade. Every day until midnight, and until 1 am on weekends you can enjoy in great music (pop and rock genre), amazing cocktails and various parties.
---
Reservations are mandatory.
You can make a free reservation using our call center or the online form.