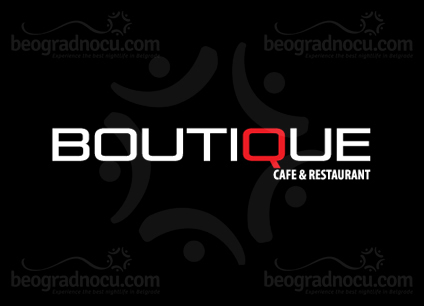 Trg Republike 3
Beograd, Stari grad

09:00h - 01:00h

Lounge

200 People
Interior
Beograd Noću
Cafe Boutique is located near monument of Knez Mihailo, at square of Republic, in downtown. Besides extraordinary location, that maximally contributes to popularity of this place, high level service are making this place well attended. Cafe and restaurant Boutique has beautiful garden in the heart of Belgrade, where you can observe passengers while you drink your favorite drink. This cafe is also ideal place for business or private gathering, spending time with your friends or intimate date with your special one.
Cafe Boutique has very relaxed ambient and interior exudes with positive energy and you will always feel welcomed. Spontaneous elegance will make you feel relaxed and sophisticated at the same time at this extremely modern place. Pastel colors, decoration without unnecessary details, interesting minimalism on the ceiling and carefully selected illumination make this place a hedonistic oasis for you, where you can completely relax and do not thing about time and your responsibilities. Here you can come if you are hungry or thirsty, in a mood for something sweet or you just want to take a rest listening to pleasant to music.
In cafe Boutique you can have a very nice meal. Menu of cafe Boutique shows an amazing creativity in cuisine made by professional chefs. Efficiency of service on high level, always smiled and friendly staff and perfect cuisine are recognizable gift that will always be offered in cafe Boutique. Quality of food here is amazing and rare in the city. After visiting your place, you will definitely tell your friends about delicious flavors of different sweets that are on menu of cafe Boutique. Since quality of service is distinguished by details, every portion, desert and drink is decorated to the smallest detail, so you can maximally enjoy.
---
Reservations are mandatory.
You can make a free reservation using our call center or the online form.