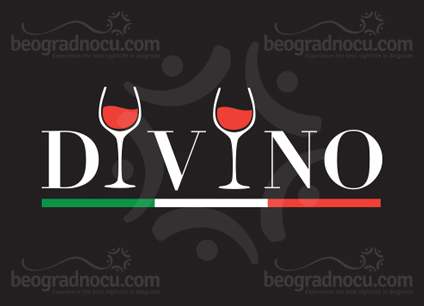 Gospodar Jevremova 50
Beograd, Stari grad

10:00h - 00:00h (on weekends to 01:00h)

Pop / Rock / House

70 People
Interior
Beograd Noću
Cafe Divino is true royal place that will reveal the bright side of enjoyment which is subordinated whole concept of this cafe. In this beautiful cafe you taste tree Italian wine and Italian pizza, as well as cocktails in which you can enjoy in this beautiful ambient of charming cafe located at No 50 Gospodar Jevremova Street.
Interior of cafe is very symmetric and modern, urban and equipped with refined taste, cafe Divino introduces you into the world of good food, quality wine and real Italian espresso in which you will find ultimate pleasure. In beautiful interior while you chat with your fiends and catch sun in modern modern Belgrade.
Cafe Divino is opened from 10 am until midnight and here you can listen to pop, rock and house music and every moment you spend here can be measured with memorable moments at some Italian square that represents ultimate pleasure. Cafe Divino is designed very tastefully and as a house of your most memorable moments. For centuries old tradition of Italian wines is waiting for you in cafe Divino, as well as secret of making most delicious pizzas with mozzarella, crushed tomatoes and olive oil.
This is a restaurant that brings one romantic and beautiful love story in the heart of Belgrade. Creators of this cafe are inspired with quality and love for good taste that are giving you trough delicious food, excellent wine and number one coffees. That's why this cafe is called - Divino.
We are here because we love Belgrade. Someone is talking about ''Sorrow for Africa'' remembering sunset in Kenya, someone about ''Saudade'' (Malinconia) remembering beaches of Copacabana, and we want to share our story with you... Love story with Belgrade, with food and... ''Di Vino''...
---
Reservations are mandatory.
You can make a free reservation using our call center or the online form.