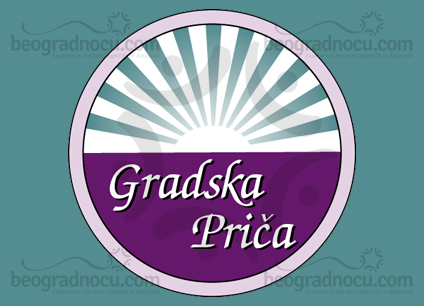 Žorža Klemensoa 8

08:00h - 00:00h (on weekends to 01:00h)

Pop / Rock

60 People
Interior
Beograd Noću
Cafe Gradska Priča is located at No 8 Žorža Klemensoa and is most beautiful cafe at Dorćol that offers unique service and amazing enjoyment. In this cafe pleasant ambient, atmosphere exudes with warmth, so you will fell like you are at home.
Concept of cafe Gradska Priča is such that people of different profile can find their favorite place since it has various offer. However, special thing about cafe Gradska Priča is tucked in ate gallery, a romantic bed for couples in love. But, besides date with your special someone, cafe Gradska Priča is also ideal for chit chat with friend, business meeting or casual relaxation. Interesting thing about this cafe is big TV screen that is real attraction when it's time for sport events. The enjoyment is real treat for men, but also for girls who can even meet a man during this events.
Of course, there is wide selection of coffees, soft drinks and spirits as well as beautiful interior subordinated to your pleasure. Besides all that in cafe Gradska Priča you can taste most delicious specialties that will make you fall in love at first sight. Kitcen is opened until 5 pm when you can enjoy in most amazing dishes. Ipanema food is responsible for food and in its business has homemade cookies, cup cakes, deserts and also has catering for all sorts of celebrations. You can see pictures at its Facebook page '' Cupcake Factory by Ipanema". You can even prepare Italian bites, cold and hot dishes, for any kind of celebrations. Most popular celebrations are  Carpaccio, Pate terrines, skate... Ipanema food also has distribution of most popular Italian biscuits with coffee, tea, wine...
Besides all conveniences, there is one more that will like to pet lovers. Cafe Gradska Priča is pet friendly place, so you can enjoy here with your pet.
Cafe Gradska Priča is opened for your enjoyment from 8 am to midnight, while on weekends is opened until 1 am. Every Friday for all guests Dobri Sin Bane is performing and music program is mostly pop and rock.
---
Reservations are mandatory.
You can make a free reservation using our call center or the online form.
Mapa - Cafe Gradska Priča