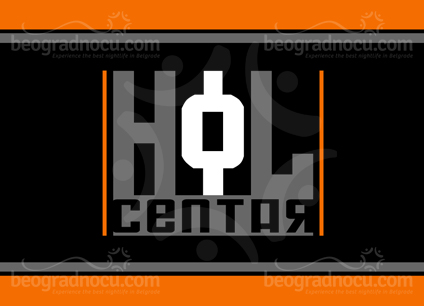 Dečanska 14 (lobby of Dom Sindikata)
Beograd, Stari grad

08:00h - 01:00h (on weekends 03:00h)

Pop (on weekends Pop / Rock / Folk)

100 People
Interior
Beograd Noću
Cafe Hol Centar is located at Nikola Pašić Square, precisely in holl of Dom Sindikata at the entrance of cinema.
In cafe Hol Centar you can enjoy in beautiful ambient and beautiful music. Every Friday and Saturday live band performances are held in cafe Hol Centar and the atmosphere is amazing, while on Sunday you can test yourself and your vocal abilities at karaoke party.
In offer of cafe Hal Centar, you can find different theme nights that are attracting creative guests looking for entertainment a bit different from usual offer in Belgrade. Precisely because of that, cafe Hol Centar is true refreshment in Belgrade offer as well as relaxed place for casual fun.
Interior of this cafe is subordinated to raising your mood, so warm colors dominate in ambient and modern furniture in accordance with architectural structure of place. Colors that are prevailing in interior are very simple orange-yellow, exactly apricot color that associate at happiness and joy. All that combined with black armchairs, tables and some details that are giving the whole interior slight contrast and balance in design.
Amazing comfort of guests is of extreme importance, so accent is also on that. Illumination is carefully selected and everything is subordinated to your pleasure. Capacity of this place is 100 people and service is on very high level. Friendly staff of cafe Hol Center is always ready to serve you and you will not regret if you visit it.
Here you can also organize birthday parties, that you will remember your whole life. Also in cafe Hol Centar literal parties for all book lovers are held, but also for people who like to enjoy. Of course, many artists and painters are from time to time organizing art exhibitions. Cooperative parties and after parties are also held in cafe Hol Centar.
Come to cafe Hol Centar, because besides wide selection of drinks you will have great time. Every day cafe Hol Centar is organizing some events, so bring your friends and enjoy in this lovely cafe. Visit cafe Hol Centar and see for yourself in quality of offer and service this place has.
---
Reservations are mandatory.
You can make a free reservation using our call center or the online form.