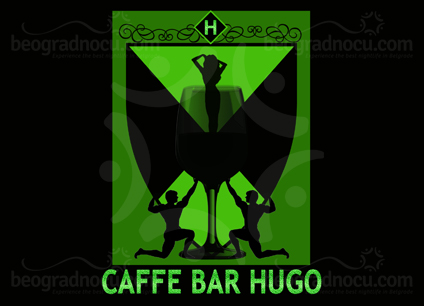 Strahinjića Bana 61
Beograd, Stari grad

08:00h - 00:00h (vikendom do 01:00h)

Pop / House

100 Ljudi

Pet friendly
Interior
Beograd Noću
Cafe Hugo is located at the heart of Dorćol, at No 61 Strahinjića Bana Street.
Hugo or how is it pronounced ''Ugo'' is new beverage created in the north of Italy, in south Tyrol. Since we all know what Aperol Spritz is (cocktail blend of citrus, sparkling wine and mineral water), Hugo in some way represents competition.
That's how a cafe with this name was founded - as a new place in town with an idea to be representative place of this drink and of course other refreshing drinks cafe Hugo has to offer.
Cafe Hugo is actually bright and very refreshing cocktail made of sparkling wine Prosecco. Similar to Mojito, Hugo also has one ingredient that emphasise taste and bubbles of Prosecco. You can drink only Hugo or maybe as aperitif before easy lunch. But take a notice, once you try this refreshing cocktail, you will not anything else to drink. Because Hugo has something that will help us to endure this cloudy and cold weather that is in front of us. Taste it and make sure for yourself.
Come to cafe Hugo and taste phenomenal taste that will take you straight to Italy, awake all your senses elegance and sophistication you have in you.
In cafe Hugo you can come for morning coffee, or in afternoon for socializing with your friends drinking some delicious cocktail or in the evening with your special someone for a glass of perfect Hugo. The reasons for drinking Hugo can be different. This can be a drink for star of a new day or even evening aperitif. Cafe Hugo has wide selection of alcoholic and non alcoholic drinks, including Scavi & Ray Italian wines, french cocktails and many other hot and cold beverages.
Interior of cafe Hugo in addition of black has green color. The owner tried to awake refined and luxurious look, emphasising toxic green color that prevails in this cafe and he succeeded at it. While in one part of cafe there is completely mint color, in other green color is running through details such as curtains, chairs, pictures, menus… This example of luxurious cafe in Belgrade is a proof that cafe Hugo is keeping up with trends, primarily functional and aesthetic norms in cafe.
Come to this exceptional cafe in the heart of Dorćol where you can expect amazing entertainment beside extraordinary drinks. Every day cafe Hugo organizes joyful events, therefor bring your friends and enjoy in this exceptional cafe and delicious cocktails bartenders will prepare for you.
Visit cafe Hugo and make sure in quality and of offer and service they have here.
---
Reservations are mandatory.
You can make a free reservation using our call center or the online form.