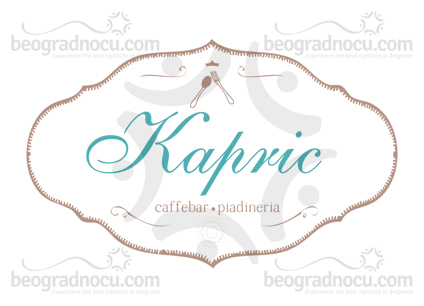 Cara Lazara 12
Beograd, Stari grad

08:00h - 00:00h

Pop

50 People
Beograd Noću
Cafe Kapric Bar is located at No 12 Cara Lazara Street and it's very popular place, as for location as for top service that will not leave you indifferent. Atmosphere in cafe Kapric Bar is always exceptional and all fans of good entertainment and hedonist should definitely come and be sure to visit this place. Cafe Kapric Bar has daytime and evening concept and you will not regret it whenever you come.
During day ambient is very relaxing and music is mostly pop cover from thirties music to contemporary and modern music. As far as an evening concept, accent is on fresh music where you can hear all current music hits. There are also various happening over whole week. Every Thursday there will be organized ''After work party'',   DJs & thrills from 5 pm to 9 pm. On Saturday you can expect Contemporary cover Dj hits  that will definitely move you. Interior is also beautiful and ambient is subordinated to your pleasure. Cafe Kapric Bar extends on two levels, precisely has gallery. There is also a spacious bar and ground floor tables. Interesting about Kapric Bar is that it owns wall projector - broadcasting music, art movies as well as sport events.
Menu of cafe Kapric Bar is exclusively piadina romagnola - specialty from Italian region Emiglia Romagna. Besides all that your time spent here will be completed with art exhibitions, installations, photography and projections of short movies. Cafe Kapric Bar is true refreshment of capital's entertainment and introduces you with novelties.
Do not wait a second! Provide yourself an unique entertainment , that you never had a chance to experience until now.
---
Reservations are mandatory.
You can make a free reservation using our call center or the online form.