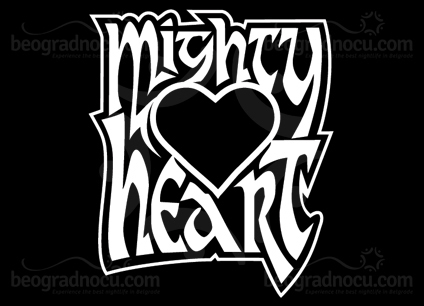 Strahinjića Bana 18

09:00h - 00:00h (on weekends to 01:00h)

Pop / Rock

75 People
Interior
Beograd Noću
Cafe Mighty Heart, to some people also known by the old name ''Javna Tajna'', is located at No 18 Strahinjića Bana Street, at Dorlćol. Cafe Mighty Heart is unique juncture of relaxed pleasant atmosphere and crazy night entertainment. In fact, cafe Mighty Heart is ideal if you want to take a break from daily rush, while with sunset you can enjoy in live band performances.
Music genre that dominates in cafe Mighty Heart is mostly pop and rock, but there is a lot of variations, so different profiles of people can amuse themselves here. Live band performances are scheduled for Thursday, Friday and Saturday with start at 9 pm and because of great popularity reservations are mandatory. Cafe Mighty Heart is an excellent choice if you want to spend time with your friends or maybe your pets. Cafe Mighty Heart is pet friendly place, so you can bring your pet here any time you want. Cafe Mighty Heart has free Wi Fi so you can share your impressions about this cafe or pictures with your pets on social networks while you're in there. While you do that you can enjoy in sipping coffee or if you are in the here you can have take away.
Working hours of cafe Mighty Heart are from 9 am to midnight, while on weekends precisely on Friday and Saturday this cafe is opened until 1 am. People who visit cafe Mighty Heart are mostly average age 25+, but that doesn't mean if you are a bit younger or a bit older can not entertain yourself here. Another thing that distinguishes cafe Mighty Heart from others in Strahinjića Bana Street are very affordable prices and friendly and polite staff always ready to serve you. Cafe Mighty is also available is you want to organize private party or business party. Capacity of this place is 75 people.
---
Reservations are mandatory.
You can make a free reservation using our call center or the online form.