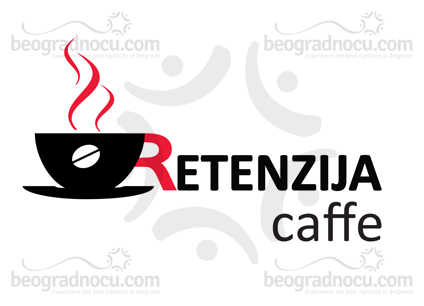 Bul. Mihaila Pupina 24 (Zemun)
Beograd, Novi Beograd

08:00h - 00:00h (on weekends to 01:00h)

Pop / Rock

70 People
Interior
Beograd Noću
Cafe Retenzija is located at No 24 Bulevar Mihaila Pupina Street at Zemun. Cafe got his name after part of town named Retenzija located ad east-west part of Zemun, at border with municipality Novi Beograd.
Cafe Retenzija started with work on March 8th  - International Women's Day. Over time this cafe gained trust of many guests that now are gladly stooping by here.
Cafe Retenzija is cafe for every day and every occasion. Whether you want to enjoy by yourself in morning coffee, with your friends on afternoon beer or your beloved one in some tasteful and delicious wine. You only have to choose, because door of cafe Retenzija is always opened for you. Every day from 8 am until midnight, on weekends until 1 am.
When you enter in cafe Retenzija, you will feel certainty and you will know for sure that you have found your ideal place, your oasis, in another word - your second home. From moment you visit cafe Retenzija, you will know where the real joy happens. You will know where to drink your favorite coffee, where to meet friends to talk to them about good and bad things with best glass of wine or some other drink.
As soon as you meet friendly and pleasant staff of cafe Retenzija you will be delighted and you will make sure that this cafe is taking care of you. You we will feel completely special, because in cafe Retenzija you are - most special person.
Cafe Retenzija has at the same relaxing ambient that is very tempting. Whole interior exudes with special style and positive energy, that you can feel in cafe as well as in guests. This isn't about Feng Shui, but special glow of staff that will make all guests of cafe Retenzija to feel good.
Relaxed, but at the same time elegant interior is completed with warmth thanks to excellent choice of colors and colorful tones. Color of sand, brown and white color are prevailing in interior of cafe Retenzija, that are weaved into furniture, chaisr, tables and booths. You can notice cheerful details, such as pink-purple wall,  pictures and neon illumination from ceiling, that gives special charm to this place. Without unnecessary details, cafe Retenzija poses nice doze of moderation, so this minimalist style is a big hit that will delight you.
Cafe Retenzija is offering to its guests excellent music program, wide selection of soft drinks and spirits, as well as large selection of coffees. Fair and promotional prices are implied, so everyone will find what they want.
Allow cafe Retenzija to provide you pleasant moments in good company.
---
Reservations are mandatory.
You can make a free reservation using our call center or the online form.