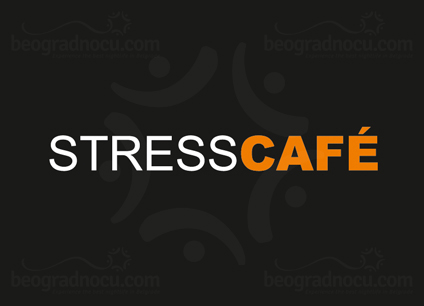 Obilićev venac 19
Beograd, Stari grad

09:00h - 01:00h

Pop

150 Ljudi
Interior
Beograd Noću
Cafe Stress is located at No 19 Obilićev Venac Street in downtown of Belgrade and represents one of favorite places for young people and daily enjoyment with a cup of coffee. Since it's located at very popular location, cafe Stress is very attractive.
Cafe Stress was founded in 2002 and extends on two levels. Over the years, cafe Stress has been offering to its guests an amazing enjoyment and true getaway from daily rush. It has been conected with cafe Jazz on both level whic makes its concept even more interesting. Interior is subordinated to your maximum pleasure and ambient is characterised with neutral cream color of wood with modern elements. This is really a winning combination.
In addition to many benefits cafe Stress is offering to its guests, here you have free Wi Fi, so you can exchange your impressions about this place on social networks while you are still there. Or you can just ''check-in''. In cafe Stress you can enjoy in delicious coffees, prepared to awake all your senses. House specialties are lemonades prepared with various flavors. Here you can relax with your special someone and spend some intimate moments, that is an ideal moment to taste some delicious coffee or some freshly squeezed fruit mix.
In cafe Stress accent is also on large number of quality cocktails, that are satisfying high standards. Bartenders and staff are maximally dedicated to their job, always doing it with smile on their face. So take an opportunity to enjoy during a day in delicious coffees and in the evening experience clubbing with best Djs in downtown in Belgrade. Cafe Jazz and cafe Stress join in forces are preparing to become most popular place in Belgrade in favorite part of town in Belgrade - Oblilićev Venac. A cup of coffee has never been so perfect!
---
Reservations are mandatory.
You can make a free reservation using our call center or the online form.