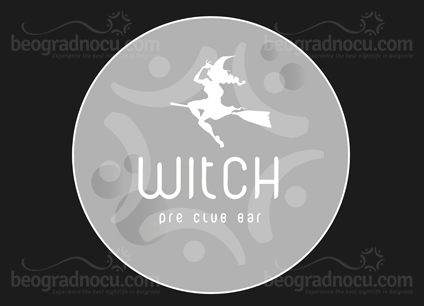 Pariska 13
Beograd, Stari grad

09:00h - 04:00h

House

100 People
Interior
Beograd Noću
Cafe Witch Bar is cocktail bar located at No 13 Pariska Street, precisely near The Cathedral Church of St. Michael the Archangel (Saborna Crkva) and Patriarchate in most beautiful part of Belgrade, the Old Town.
Cafe Witch Bar has a view at medieval fortress Kalemegdan, so it's very pleasant for daily enjoyment, perfect cup of coffee with book or gossip party with friends.
Specialty of cafe Withc Bar is night entertainment and remarkable cocktails that are breathtaking. Cocktails, that are drawing attention only by its name, you will drink with passion and enthusiasm. Whether they are standard for good day or bigger from 1 l or 3 l for good night, they will affect positively at your mood. You can taste Batman cocktail, Superman cocktail or even Hulk cocktail that are really strong cocktails or you can try Witch from Bermuda cocktail or Love Storm cocktail that will tickle your imagination, not only with its name but with taste as well. Bartenders who are working in cafe Witch Bar have longtime experience in this work and they are doing their job with lot of love. They will definitely recognize cocktail that fits to your type of personality and excite you. Cafe Withc Bar also have wide selection of different alcoholics drinks, while prices are very affordable. Cafe Witch Bar    is a place where everyone's frog becomes a prince and if he is good he maybe becomes a princess. Here every girl becomes devil after even one sip of magic potion. Believe it or not! Cafe is serving princes without a horse and princesses without a peas, very easy to maintain - one sip of beer and you already have the love of your life. If you thought that this things happens only in fairy tales, you are wrong! This place isn't in fairy tale, but it is fairy tale.
Music program during a whole week and relaxed atmosphere, with all above, makes vafe Withc Bar your perfect place for going out.
---
Reservations are mandatory.
You can make a free reservation using our call center or the online form.