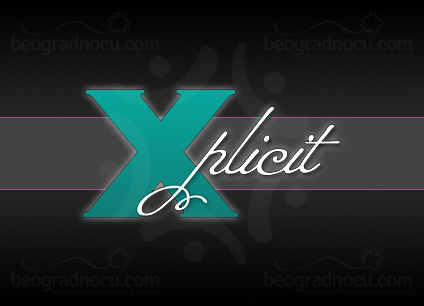 Golsvordijeva 31
Beograd, Vračar

07:30h - 00:00h (on weekends to 01:00h)

Pop

100 People

Pet friendly
Interior
Beograd Noću
Cafe Xplicit is located at Vračar, at No 31 Golsvordijeva Street. This cafe is one of most popular cafes in this part of town.
Specific location of cafe Xplicit allows its guests enjoyment in extremely beautiful natural shade. Hidden from daily rush, this cafe allows you to relax with your friends, your colleagues or your special someone with delicious morning cup of coffee.
Cozy ambient of cafe Xplicit will make your time here a true pleasure. Reading your newspaper in heart of Vračar, complete with rich offer of delicious cocktails and various fresh juices.
Interior of cafe Xplicit is subordinated to your maximum pleasure, so the interior is mostly in turquoise color with modern furniture in black and white which in perfect accordance with architectural structure of cafe. It looks very effective and fancy.
From wide selection of drinks, from menu you can choose hot chocolate to warm you, medovača or mulled wine. Here, you will always be welcomed with pleasant atmosphere and friendly staff that is always at your service. Cafe Xplicit also offers attractive creative nights and different from standard offer in the city.Precisely because of that, cafe Xplicit presents true refreshment in cafes in Belgrade.
So your pleasure can be maximum, cafe Xplicit carefully selects music, so you can hear comercial sounds and many others. During week days, cafe Xplicit is opened from 7:30 am to midnight, while on weekends is opened until 1 am. Cafe Xplicit also has free Wi Fi, so you could share your impressions about this cafe on social networks, while you're in there.
Cafe Xplicit is also ideal place for celebrating various events or just for warm up before going out. With very affordable prices, this cafe is also excellent choice for enjoyment in intimate atmosphere with wide selection of excotic drinks and cocktails.
Be a guest of cafe Xplicit and come to Vračar!
---
Reservations are mandatory.
You can make a free reservation using our call center or the online form.