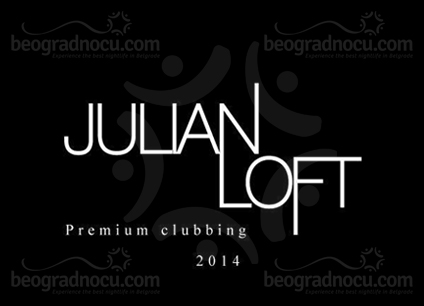 Karađorđeva 2-4
Beograd, Stari grad

23:00h - 04:00h

House

600 People
Beograd Noću
Club Julian Loft is located at Belgrade port, Beton Hala No 2-3 Karađorđeva Street. Visitors of this newly opened club can expect amazing music program and many other surprises.
Club Loft is one comfortable lounge bar, convenient for everyone who wants after long working day, to start clubbing little earlier. Every Thursday, Friday and Saturday, the doors of club Loft will be opened from 8 pm with a sound of lounge music. And then after 11 pm, guests can relax, loosen up their ties, take of their jackets because club Loft is making real club atmosphere.
Music concept of this club is based on electronic music and similar genres, adjusted to experienced clubbers.  Famous Djs of Belgrade scene like MKDSL, Miss Mille, Dača Milojević, Mirko & Meex, Groovyman, Funkin` Blue, Dj Pop, will be residents of this new hot club. They will also perform on opening night and give an introduction for upcoming season of club Loft.
Besides excellent music program, this club will organize various performances, like fashions shows, video installations and exhibitions. This club has wide selection of drinks, as well as premium brands and snack food like finger food.
Club Loft will be recognizable by outstanding offers of cocktails, but guests will also be able to enjoy in famous Italian coffee.
With its interior and service club Loft offers unique experience of real jet set and glamorous party. Club Loft is also a place, where you can encounter people of different nation, culture, in one word different point of view. You can come here to enjoy, find inspiration or just to refresh yourselves.
This club can receive 600 people, and people gathering here are mostly above 25 years old. Club Loft guarantees god party.
Not hard, not soft – club Loft.
Club Julian Loft
Average rating:
0 reviews
---
Reservations are mandatory.
You can make a free reservation using our call center or the online form.