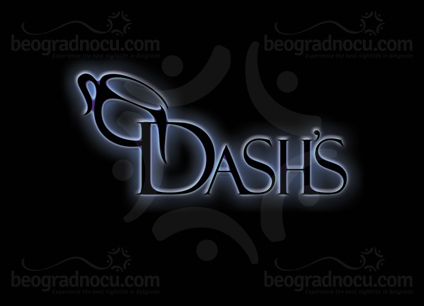 Dušana Jovanovića 4
Beograd, Voždovac

08:00h - 00:00h

Pop / Starogradska

80 Ljudi
Interior
Beograd Noću
Restaurant Dash's. Popular capital's bar Dash's for true hedonists and lovers of quality entertainment has opened restaurant of italian cuisine with same name. Since it's located in quiet part of Voždovac, at No 4 Dušana Jovanovića Street ( near Stjepe Stjepanovića and Faculty of Pharmacy. This restaurant is ideal if you want to take a break from daily rush.  Here you relax and let your senses enjoy to maximal pleasure in this specific restaurant. Interior of restaurant Dash's is very recognizable and as well as the bar, it stands out for its architectural solutions. Restaurant has 80 seating places and ambient is ideal.
Restaurant Dash's is designed so you can enjoy in special juncture of modern furniture and carefully designed illumination. Magnificent garden additionally contributes to worlds look of this restaurant, as well as unique fountain in japanese style made of glass at three levels. Garden that has a lot of flowers and 100 seating places is ideal for various corporate and other parties. Italian cuisine specialties are reflecting creativity of chefs with years of experience will leave you breathless.
Everything you can experience in restaurant Dash's will leave you breathless and you will be delighted with service of professional waitress, cocktails of best bartenders as well as great fun. Restaurant Dash's offers enjoyment in delicious specialties and wide selection of drinks. Here you can have good breakfast or different kind of salads, pastas, pizza, pancakes. You can treat yourself with delicious desserts by your choice, such as ice cream cup, cakes or sweet pancakes.
You only have to decide, but we are certain that you will enjoy in rich bites made in kitchen of restaurant Dash's. Music in restaurant Dash's is mostly pop and traditional and is always performed by great professionals.
Restaurant Dash's
Average rating:
1 reviews
Sep 7, 2021
Food is very good!
---
Reservations are mandatory.
You can make a free reservation using our call center or the online form.