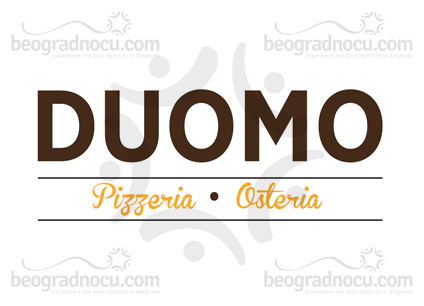 Strahinjića Bana 66

09:00h - 01:00h

Lounge

60 People
Interior
Beograd Noću
Restaurant Duomo is located in one of most enjoyable parts of Belgrade, at Dorćol, at No 66a Strahinjića Bana Street.
In most famous part of Belgrade, you will be welcomed in cozy and nice restaurant Duomo. And at first sight true Italian spirit will take you over.
Whether you just wanna short espresso, to try something from Italian cuisine or just to relax and enjoy in refreshing Bellini, Rossini, Negroni or Aperol Spritz, all that you can find in charming restaurant Duomo. Of course, relaxation is true advantage of restaurant Duomo, which is enriched with authentic Italian cocktails, delicious antipasti (appetizer)  and genuine Italian dishes made by recipe of Italian chefs. All this gives you an opportunity to experience true dose of ''dolce vita'' in this restaurant.
Restaurant Duomo has best offer of original Italian pizza made in special oven. Chefs are using original ingredients so for true Italian gourmands this restaurant feels like home. Beside different kind of pizza, like pizza with beef carpaccio, restaurant Duomo has wide selection of pasta, salads and carefully selected wine card.
If you are fan of risotto, here you can find interesting  combination, like risotto with spinach or risotto with Italian pancetta. At the end, you can try some dessert from menu, such as Zuppa Ingles or  Cassata Siciliana that will show you that ''dolce vita'' exists here in restaurant Duomo.
From early spring until late autumn, hidden garden of restaurant Duomo is opened for all of those who would like to enjoy in smell and taste of Italian cousin. For all of those who like spirit of most busiest street in Belgrade, for busy people who just wanna stop by for a quick espresso and few precious moments to spend with friends restaurant Duomo is here. Innovative concept of heating based on principal of infrared heating, makes this garden a perfect place to enjoy even in cold days.
Restaurant Duomo is most delicious and original pizza. Duomo is romantic dinner with glass of quality wine. Duomo is gathering of friends completed with delicious dinner and deserts. Duomo is professional service that its guests deserve. Duomo is comfortable garden where you spend relaxing moments with family, friends, associates or just by yourself. Duomo is breath of Italy in heart of Belgrade.
Important thing is, if you are not able to some to restaurant or you just wanna enjoy Mexican food in comfort of your home, restaurant Duomo will deliver your food at desired address.
Restaurant Duomo
Average rating:
0 reviews
---
Reservations are mandatory.
You can make a free reservation using our call center or the online form.