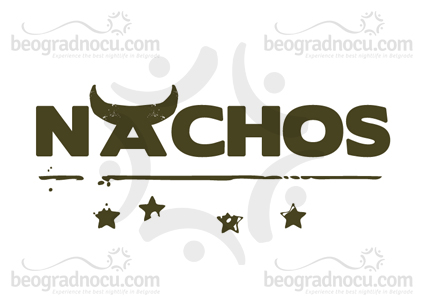 Strahinjića Bana 66a

09:00h - 01:00h

Lounge

60 People
Interior
Beograd Noću
Restaurant Nachos is one of the best Mexican restaurant in Belgrade with long tradition.
What we call Mexican cuisine or Tex-Mex is actually real Mexican food adjusted in a way that suit american cowboys. Enchiladas, tacos, burgers, ribs, tortillas and quesadillas are just one of the specialties that gourmands are enjoying for decades. All that and even more can be found in restaurant Nachos, at No 66b Strahinjića Bana Street, in downtown. Cozy place that has become a try symbol of Tex-Mex enjoyment.
For those who like to enjoy in menu of restaurant Nachos you can find perfect grilled ribs in BBQ souse , served with roast potatoes. True gourmands claim that the best Tex-Mex ribs they have ever had were from this part of Europe. However that's not only delicious food from menu, since Mexican cuisine is mix of flavors, fragrances and spices. Beside famous ribs restaurant Nachos warmly recommends enchilada in famous red sauce or some tacos with poetic name Che Guevara, Zapata or Luis Beach. For those who prefer continental cousin there are fantastic burgers. Burgers with meat, fish, Mexican, chicken, or maybe Philadelphia burger (made as famous sandwich) will make you happy with taste and appearance. Happy Nachos burgers with fantastic taste and flavor are excellent choice for crew - meal that will make your lunch or dinner with friends unforgettable.
It's nice to end perfect lunch with delicious desert where restaurant Nachos recommends warm chocolate Zabaione  or Tica dream cake - desert that people talk about.
Important thing is, if you are not able to some to restaurant or you just wanna enjoy Mexican food in comfort of your home, restaurant Nachos will deliver your food at desired address.
Welcome to true Mexican restaurant: Nachos - where all flavors refined your senses.
Restaurant Nachos
Average rating:
1 reviews
Sep 9, 2021
Obozavam meksicku hranu
---
Reservations are mandatory.
You can make a free reservation using our call center or the online form.