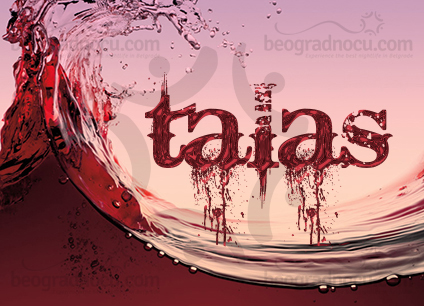 Kej Oslobođenja 37
Beograd, Novi Beograd

21:00h - 01:00h

Pop

250 Ljudi
Interior
Beograd Noću
Restaurant Talas is located at No 37 Kej Oslobođenja Street in Zemun, on Danube's shore.
Unusual appearance with traditional music and wine selection world wide are just a part of an amazing fun that often ends with sunrise.
Modern and elegant appearance of restaurant Talas is  designed by famous architect, who made "perfect pairing" style concept in this place. Hedonist experience of wine and food in beautiful ambient. Pleasant atmosphere will be completed with traditional music, that are playing for you professional musicians every night. Allow yourself to experience one of the most popular restaurants in Belgrade, where you can wait daybreak having amazing fun.
Restaurant Talas is consisting of two levels and garden surrounded by greenery with a view of Danube. Lower part has large bar with high chairs, while in upper part is dinning room. Interior is unusual and has cutlery as decorative details. Each chair at table different that other that back of that chair has back as women's corset.
Rich and diverse menu of restaurant Talas is prepared according to origin of food - earth and water. This type of lunch ''prepare your own meal'' is made so all your senses can be satisfied. Tradition of good taste in restaurant Talas is not only in high quality food, but entire restaurant exudes different. From entrance which shows what a great restaurant this is, but also waitress ready to recommend appropriate combinations of dishes and wines and possibility for guest to look into preparation of his wood.
In restaurant Talas you will not be disappointed with prices and you will enjoy being seen at this place. Come and enjoy in great traditional music and wide selection of food and drinks.
This Talas good, tasty and different. This is Talas of Mediterranean, tradition and high quality service. This is unforgettable Talas.
Restaurant Talas
Average rating:
1 reviews
---
Reservations are mandatory.
You can make a free reservation using our call center or the online form.