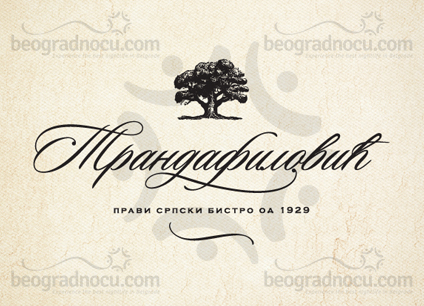 Makenzijeva 73
Beograd, Vračar

08:00h - 00:00h (vikendom do 01:00h)

Pop

50 Ljudi
Beograd Noću
Restaurant Trandavilović is one of the eldest restaurants in Belgrade. As many chronicles state this is most famous city tavern until World War II and one of the first Serbian bistros. This beautiful restaurant is located in downtown, at corner of Mekenzijeva Street and Mutapova Street.
Restaurant Trandafilović was built in 1929, crashed in 1951 and rebuilt six years later. At this place, you will always be satisfied and have unique experience, since it has a tradition of 80 years successfully operating. Every detail in restaurant Trandafilovic tells a story of old Belgrade. Another special thing about this restaurant is that platan 23 meters high, around 150 years old that provides relaxing natural shade in warm days. It's also important to note, that even though restaurant is right next to crowded street, restaurant's garden is true oasis of peace and tranquility in urban part of the city. But, that's not all. Besides beautiful ambient, that can not be compared to any other place in the city, restaurant Trandafilović offers a lot of conveniences that will delight you. In restaurant Trandafilović, you can enjoy in flavors of traditional Yugoslavian cuisine as well as in many modern dishes. One thing is certain - if you want to try homemade dumplings with plums, to taste real snenolke, to smell real ćevapčići, this restaurant is right choice for you. Beside all that, excellent choice of wines. There is also possibility of organizing private celebrations, lunches for bigger groups, ordering meals for employees, delivery for fairs.
Don't wait a second any more. Visit this remarkable capital's restaurant and allow yourself and your friends unique experience. People gathered around restaurant Trandafilović will make sure that you don't miss a thing and you will fall in love in this place at first site.
Restaurant Trandafilović
Average rating:
0 reviews
---
Reservations are mandatory.
You can make a free reservation using our call center or the online form.
Mapa - Restaurant Trandafilović