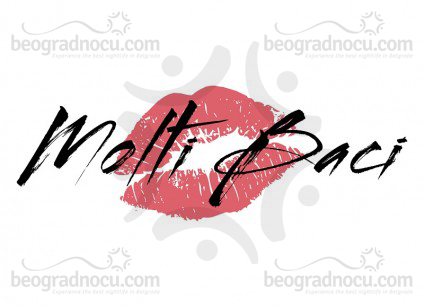 Ada Ciganlija bb
Beograd, Čukarica

23:00h - 03:00h (ponedeljkom od 16:00h)

Pop / Folk

200 Ljudi
Interior
Beograd Noću
Club Molti Baci is located at Ada Ciganlija and it is one of the most popular places to party on water. It provides enjoyment and unrepeated fun.
Club Molti Baci  works during the day, so here you can enjoy a cup of coffee or carefully mixed day cocktails, when the night comes you can experience spectacular fun at same place. Club Molti Baci works until 3 am and also provides unforgettable atmosphere. Good fun is all that matters, so you can expect all kind of cocktail promotions.
Interior is exceptionally modern, with table seating, but also with high bar tables around which you can dance all night long. Club Molti Baci plays all kind of music that can satisfy all types of people. However it depends what day you chose to have fun at this popular place, you can either enjoy pop, folk, RnB or house music. If you chose live performance by popular bands which only goal is to make your night out at club Molti Baci told twice at superlative! When  Dj plays at club Molti Baci ,  RnB or house nights you can be amused by popular DJ Architect, some might say his parties are some of the best parties in capital. From what is certain any music genre must satisfy high quality and keeps you up all night. The atmosphere changes rapidly, to be more precise it gets better and better as the night progresses and guests always ask for one more song.
When you spend the night at club Molti Baci, you will want to repeat this experience again, because a great night out like this IN club Molti Baci is leader among others like it, despite strong competition .
Club Molti Baci has a capacity of about 200 people, staff is highly available and kind, and the good mood that is always present and truly remarkable.
Club Molti Baci
Average rating:
1 reviews
---
Reservations are mandatory.
You can make a free reservation using our call center or the online form.
Galleries - Club Molti Baci