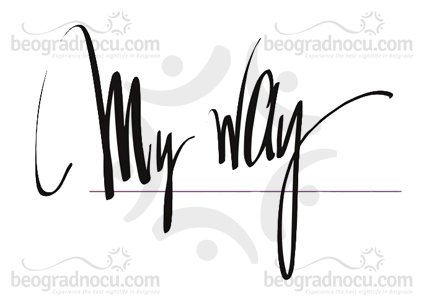 Tadeuša Košćuška bb
Beograd, Stari grad

09:00h - 01:00h (on weekends to 03:00h)

House

250 People
Beograd Noću
Club My Way represents ideal place for break from capital's life and offers true pleasure at river. Club My Way is located at Danube at Tadeuša Košćuška Street. This place is created with intention to provides every guests top pleasure. This river club is pet friendly place, so you can bring your pet here without thinking.
At river club My Way you can taste famous cocktails and italian cuisine specialties that are prepared at very original way. Here you can try all sorts of pastas, salads, pancakes, ice cream and many other sweets. Besides exceptional cuisine that you can taste at your favorite river club My Way, here you can also enjoy in beautiful ambient that offers you to spend quality time with your family, friends and whoever you want.
River Club My Way guarantees you high quality service and polite staff that will make your visit unforgettable.
Besides original and special cocktails with homemade syrups, river club My Way also offers wide selection on rakija and homemade wine at promotional prices. Here you can also taste draft and bottled beers and all sorts of juices. Interior of club MY Way is created so it will provide you maximum comfort. Leather furniture with wooden elements are located both inside and in the garden of river club My Way. Warm tones of modern furniture combined with neutral colors are true recipe for relaxation.
At river club My Way you can listen to mostly house music, and club is opened from 9 am until 1 am every day and on weekends until 3 am.
Here you can expect best party in town and important thing is that river club My Way is large and accommodates around 250 people.
Club My Way
Average rating:
0 reviews
---
Reservations are mandatory.
You can make a free reservation using our call center or the online form.