Striptease club Romansa 1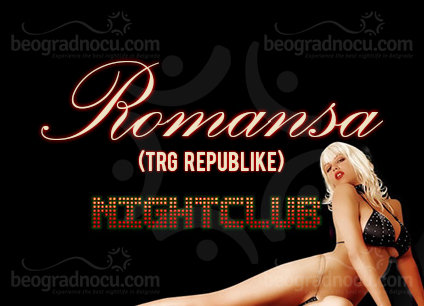 Skadarska 40

22:00h - 05:00h (vikendom do 06:00h)

House / RnB / Pop

100 Ljudi
Strip bar events
THURSDAY 23. March
Striptease Live Show od 22h
FRIDAY 24. March
Striptease Live Show od 22h
SATURDAY 25. March
Striptease Live Show od 22h
SUNDAY 26. March
Striptease Live Show od 22h
MONDAY 27. March
Striptease Live Show od 22h
TUESDAY 28. March
Striptease Live Show od 22h
WEDNESDAY 29. March
Striptease Live Show od 22h
Interior
Beograd Noću
Striptease club Romansa 1 is located at No 5 Trg Republike Street in downtown. Every day from 10 pm until early in the morning you will have excellent chance to spend unforgettable moments in one of most charming, most graceful and most sexy dancers.
In striptease club Romansa 1 you will feel attention and care of their staff and also enjoy in erotic dance that will definitely make you to forget all your worries. Romansa is one of most exclusive and most pleasant strip clubs in this Belgrade.
If you want to relax, or spend night without any distributions or you just want to have unforgettable night, elite striptease club Romansa 1 is just the right place for you. Female strippers will welcome you in the club with attractive dance, with unavoidable bar located at central part of club. They will perform erotic, sensual, modern and artistic dance and provide phenomenal, intimate and relaxing atmosphere.
In striptease club Romansa 1 special attention is given to true values of real enjoyment. Goal of striptease club Romansa 1 is to engage large numbers of quality dancers, not strippers, that will dedicate to their job, respectively to you. Every each of them is sorceress and has true magic for your mood and at the end of her performans brings you only smile on your face. And you must admit, that is quite enough.
Always smiled and cheerful dances will accompany you during the evening, chat casually with you about subjects you choose and dance for you.. of course, if you want to.. Dressed tempting or completely natural, these charming, ladies will make you feel good, take care of you and make your stay in Romansa 1 unforgettable. Unforgettable memory. You only have to come and club Romansa 1 will do the rest.
Striptease club Romansa 1 is code for fulfillment of your dreams.
So, if you are in Belgrade and you want to get away from daily rush, enter in unique world of Romansa 1 and prepare yourself for land of secret fantasies and spectacular party.
While fantasy conquers you, Romansa 1 will make your wishes come true.
Striptease club Romansa 1
Average rating:
1 reviews
---
Reservations are mandatory.
You can make a free reservation using our call center or the online form.
Mapa - Striptease club Romansa 1