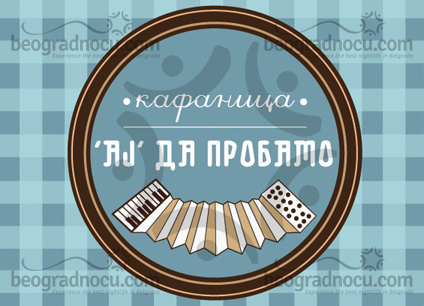 Kozjačka 29

21:00h - 02:00h

Traditional music

80 People
Interior
Beograd Noću
Tavern 'Aj' Da Probamo is one magical place that opens up new horizons in tavern life in Belgrade. Beautiful sound of traditional music is mixing with bohemian philosophy beautiful in tavern 'Aj' Da Probamo located at No 29 Kozjačka Street. This amazing tavern with great pleasure and excitement expects you.
Tavern 'Aj' Da Probamo is beautifully decorated and its elements consist of sleeping soul and most beautiful notes of tavern life in Belgrade, especially the one in tavern 'Aj' Da Probamo.
This beautiful tavern 'Aj' Da Probamo accomodates 80 people. Interior is decorated in hedonistic spirit, with wooden chairs, blue plaid sheets on tables along with memories written on walls. Magnificent sound of wired instruments played by professional musicians make the whole atmosphere complete.
Tavern 'Aj' Da Probamo is tavern in which you will have desire to write most beautiful song that will be inspired with your tavern life. Those beautiful adventures that you can experience only in this tavern can be told only trough a song that will interview along with wired instruments.
Colors of wall are warm, so you will have an expression that you are hugging with our famous bohemians that has left their souls in taverns. And every visit to tavern 'Aj' Da Probamo you will revive them. Service is high quality, every guest has special treatment, because staff in tavern 'Aj' Da Probamo is very professional and will always welcome with smile on their face.
Prices in tavern 'Aj' Da Probamo are very affordable and here you can can drink your favorite drink all night long and not worrying about your wallet. This is tavern where you can try laughter, tears, song, sadness... Here you can try hate and love at the same time, the way your ancestors used to do, because this is one and only tavern 'Aj' Da Probamo.
---
Reservations are mandatory.
You can make a free reservation using our call center or the online form.
Mapa - Tavern 'Aj' Da Probamo