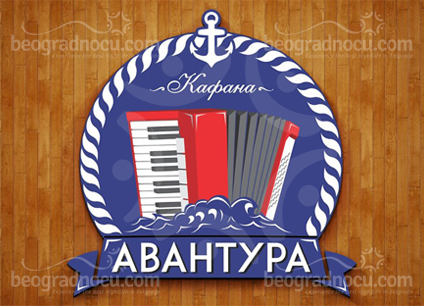 Bulevar Vojvode Bojovića bb
Beograd, Stari grad

22:00h - 05:00h

Pop / Rock / Folk

200 People
Beograd Noću
Tavern Avantura. If you are ready to engage into adventure of your life mi have an offer for all of you. All your tavern desires are starting to come true precisely in tavern Avantura at Bulevar Vojvode Bojića bb Street. You are probably wondering why is this tavern located at water different from others and what will awake all your hidden desires. We are telling you that besides rich music program and impeccable service you can expect fun you have never experienced before.
Tavern Avantura is opened from 10 pm until 5 am and can accommodate 200 people. Music program of this tavern is mostly pop, rock and folk that will contribute so you can experience this tavern at completely new way. You will always want to come back. Interior is very tempting and represents juncture of new and old adventurous spirit.
This tavern has not lost spirit of old times, even though you can fell spirit of newdays. Spacious and illuminated bar will be special thrill for you and here you will experience most beautiful moments in your life. This tavern doesn't have name Avantura (adventure) with no reason. This tavern is unique with their music program, professional staff, great party and many surprises.
Tavern Avantura is taking you to sleepless nights, with best and happiest crew which whom every day is adventure. Here you will meet most beautiful girls in Belgrade and maybe start some story with one of them. So, what are you waiting for, adventure is in front of you ready to offer best nightlife in Belgrade. Put smile on your face and be ready for most crazy adventure you wouldn't miss ift in a world. See ya!
Tavern Avantura
Average rating:
0 reviews
---
Reservations are mandatory.
You can make a free reservation using our call center or the online form.