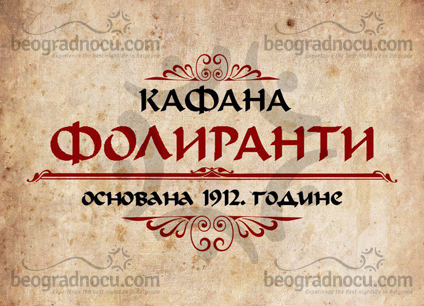 Kapetan Mišina 16
Beograd, Stari grad

20:00h - 02:00h

Traditional music / Original folk music

120 People
Interior
Beograd Noću
Tavern Foliranti is located in downtown at No 16 Kapetan Mišina Street. This bohemian tavern is really ideal place for all lovers of bohemian night life.
Tavern is ideal if you wanna full around every night, or just wanna take a coffee break between work  or you wanna party all night long.
Besides wired musicians, that are playing just for you, ambient of tavern Foliranti is completed by photos of famous Belgrade bohemian - Momo Kapor, Pavle Vujsić, Petar Krala, Taško Načić...
Interior is subordinated to your pleasure, so there is no bad place in tavern, wherever you are you are always in center of attention. Besides real tavern atmosphere, prices in this tavern are very affordable and you can organize private parties and celebrations.
Special thing about tavern Foliranti is great respect toward guests who are gladly returning here, for best tavern fun in Belgrade. Once you dance in tavern Foliranti, you will make sure that the feeling is incomparable to any other place in Belgrade.
During your visit to tavern Foliranti, you can enjoy until 2 am in the morning. Whether you are in company of your friends, or beloved ones or special someone, memorable atmosphere is guaranteed.
Working hours are excellent for early birds since this tavern opens at 9:30 am in the morning, seven days a week. Then you can stop by for afternoon coffee with Turkish delight at very affordable price. On weekends tavern Foliranti is opened fromn 5 pm, so accent is on night party.
Tavern Foliranti will mark you drunkenness and make a lot of memories that you will cherish.
Prices in tavern Foliranti are very affordable so you could relax and enjoy completely. Tavern Foliranti cherishes tradition and here you can here every night music and laughter.
For long time this tavern is warming up hearts of guests that are always returning. Atmosphere in tavern Foliranti  is relaxed and available for anyone who want good time.
Tavern Foliranti is just made for you. Come and see why tavern Foliranti is best choice. If you want to experience true tavern experience, come to tavern Foliranti and enjoy without fulling around.
Tavern Foliranti
Average rating:
0 reviews
---
Reservations are mandatory.
You can make a free reservation using our call center or the online form.
Galleries - Tavern Foliranti