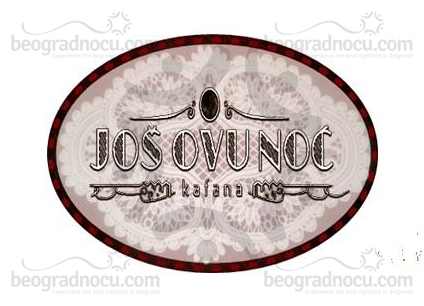 Vojislava Ilića 86
Beograd, Voždovac

20:00h - 04:00h

Pop / Folk

220 People
Beograd Noću
Tavern Još Ovu Noć is located at No 86 Vojislava Ilića Street at Vračar. Interior of this tavern remind us of postcards of old Belgrade, with excellent traditional music, best Serbian rakija and all that will remind you of spirit of forgotten Belgrade when tavern was symbol of all important events in the city and life of individuals.
Tavern Još Ovu Noć will remind you of old bohemians who used sing traditional songs sitting at tables covered with plaid sheets. And lanterns, wooden tables and chairs, walls that are reflecting old times  and appropriate music guarantee you good time.
Unusual, special and challenging spirit of tavern Još Ovu Noć that flows trough it will make you relax and remember most beautiful moments in your life: first time you were in love, first kiss, time you have suffered and all that listening to amazing music.
In tavern Još Ovu Noć drink has very high quality, but with affordable pocket adjusted to everyone's pocket.  While you are listening to your favorite song, enjoy in Serbian rakija or delicious wine you can have a snack.
For this bohemian temple reservations are mandatory, but free. Music will revive old times and while you watch old pictures on the walls, you will enjoy in melody of music. Gentile staff will make your visit memorable and you will always want to come back again to sing, to dance, to have fun all night long.
And professional musicians will make sure to put you in a good mood, so you keep it all night long. Tavern Još Ovu Noć is opened from Wednesday until Sunday, only for your pleasure. Tavern Još Ovu Noć is symbol of good time, so come and see for yourself.
Tavern Još Ovu Noć
Average rating:
0 reviews
---
Reservations are mandatory.
You can make a free reservation using our call center or the online form.
Galleries - Tavern Još Ovu Noć
Mapa - Tavern Još Ovu Noć