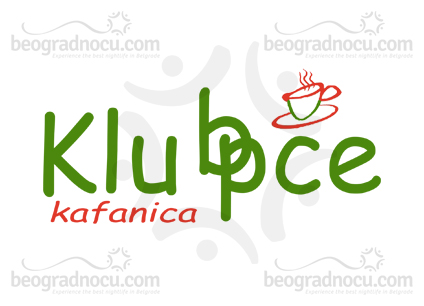 Cara Nikolaja 74
Beograd, Vračar

09:00h - 02:00h

Pop / Folk / Rock

60 People
Beograd Noću
Tavern Kafanica Klupče is located in downtown at No 74 Cara Nikolaja II Street at Vračar. This small and cozy shelter in downtown is founded 2005 and after changing location and time has kept its recognizable name and excellent service.
Tavern Kafanica Klupče is new tavern with old tradition. Gathering place of old and young people. Behind tavern Kafanica Klupče there are years of live band performances, theme nights, sport events, barbecue in the garden and in front of this tavern more new and beautiful things. Com to tavern Kafanica Klupče and see for yourself.
This place is for those who knows how to enjoy and love domestic atmosphere and that's precisely how is in tavern Kafanica Klupče. Ina tavern Kafanica Klupče live music performances are organized where musicians are going from table to table just to play for your soul. Here you can hear to diverse bands and mostly pop and rock music, while occasionally you can expect DJ performances.
Here you can sing, you can drink, you can break a glass and blame it to the atmosphere. When song gains you, everything is forgiven.
In tavern Kafanica Klupče you can drink rakija, beers, cocktails and even mulled wine to warm you up. An additional plus is that drink pices are very low, with extra promotions. You will find this prices only in tavern Kafanica Klupče.
Interior of tavern Kafanica Klupče is not very big what is precisely beauty of this place because all guests are very close. Here many friendships and relationships are made. Many beautiful stories are told and there will be many more. Come to hear a few stories and also tell a few.
Tavern Kafanica Klupče consists of two parts, divided with bar tables with bars a side. Tavern Kafanica Klupče also has few large tables for bigger group of people, as well as for smaller group of people that always expend over night. Ambient is very cozy and cheerful with colorful wallpapers.
Big garden is framed with greenery and it's a perfect escape during summer days. Sitting in garden of tavern Kafanica Klupče you will have an impression that you have left time for a while and really you are in downtown.
You can also rent tavern Kafanica Klupče for private parties or exhibitions.
Tavern Kafanica Klupče
Average rating:
0 reviews
---
Reservations are mandatory.
You can make a free reservation using our call center or the online form.
Mapa - Tavern Kafanica Klupče