Tavern Ko To Tamo Peva!? (Zemun)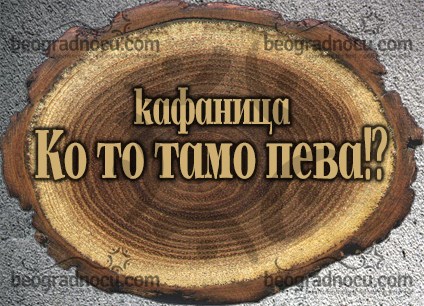 Karamatina 27
Beograd, Zemun

21:30h - 03:30h

Starogradska

80 Ljudi
Beograd Noću
Tavern Ko To Tamo Peva!? is cute cottage located at No 27 Karamatina Street in bottom of Gardoš. For four years this tavern is taking care of your mood.
This fantastic tavern is a reason to love taverns, accommodates 80 people and exudes very positive energy. It's opened on Friday and Saturday.
Tavern Ko To Tamo Peva!? is like a candy that you can't try and for that you want it even more. This tavern has 10 tavern tables and 45 chairs, and instead of bar tables has 6 barrique tables and 25 bar chairs. Here you can drink best wine and beer , as well as homemade rakija. There are also snacks (njeguška ham, sausage, homemade cheese and olives) for your endless pleasure.
Tavern Ko To Tamo Peva!? is true bohemian residence. It's famous by organizing parties for birth of children, where every child gets a gobelin frame with their name, which stands on walls of tavern as decoration. Prices are more then correct, friendly to your pocket and atmosphere is true bohemian that you cant't get enough. Curtains on windows will give you impression like you are at countryside and that every moment a beautiful girl will enter to poor you wine.  Interior is warm, domestic, bohemian and romantic at the same time. Carefully selected details that are are true charm of this place. All that, with beautiful illumination makes real bohemian atmosphere.
Tavern Ko To Tamo Peva!? is tavern of most beautiful voices, most beautiful women, most beautiful music and authentic tavern life. Every weekend charismatic musicians will play traditional music for you and you should definitely give your trust to tavern Ko To Tamo Peva!?.
Tavern Ko To Tamo Peva!? (Zemun)
Average rating:
1 reviews
Sep 9, 2021
Okej kafana skroz
---
Reservations are mandatory.
You can make a free reservation using our call center or the online form.
Mapa - Tavern Ko To Tamo Peva!? (Zemun)