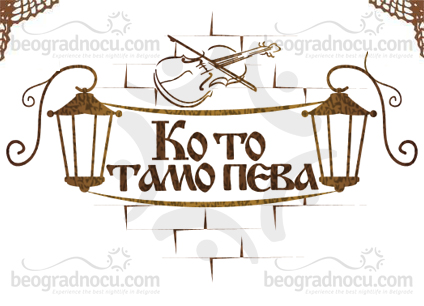 Cetinjska 17

22:00h - 03:30h

Pop / Folk

300 People
Beograd Noću
Tavern Ko To Tamo Peva is located at No 17 Cetinjska Street at bottom of Skadarlija - center of bohemian lifestyle. So, visitors when you come to this part of Belgrade, entertain yourself, have fun and try with your imagination to remember the old days.
In tavern Ko To Tamo Peva you will remember all generations of poets and actors, journalists and artists, bohemians known and unknown.
Tavern Ko To Tamo Peva is very spacious with pleasant ambient, fantastic atmosphere and accommodates 300 people. Every day you can expect some surprise, since everything is allowed in this tavern. Tavern Ko To Tamo Peva is opened from Wednesday to Sunday, from 10 pm to 10 am.
Tavern Ko To Tamo Peva never sleeps, so you are always welcome. Music is always on, drink is just poring, and happiness and laughter doesn't stop. Here you can relax yourself and enjoy in live band performances and prices of drinks are adjusted to everyone's pocket. Music taste is different, but here you can here everything you desire. Music genres are pop and folk.
Conclusion can only be that tavern Ko To Tamo Peva is just the right place for lovers of bohemian lifestyle. You should visit it and see for yourself. You only have to make reservation on time and provide yourself and your friends best entertainment in town.
With it's impeccable service and flawless work, tavern Ko To Tamo Peva threatens to be leading tavern in town, and it's on you to find out why.
So don't think to much and just go to tavern Ko To Tamo Peva and create yourself memories that are worth telling - ''Who sings, doesn't think evil.''
Tavern Ko To Tamo Peva
Average rating:
0 reviews
---
Reservations are mandatory.
You can make a free reservation using our call center or the online form.
Galleries - Tavern Ko To Tamo Peva
Mapa - Tavern Ko To Tamo Peva