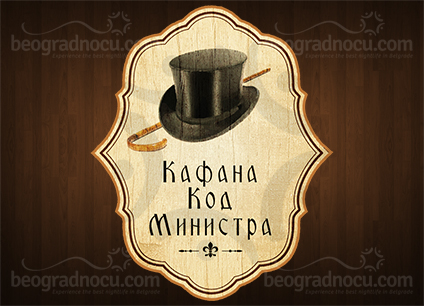 Admirala Geprata 14 (entrance from the yard of Government Republic of Serbia)
Beograd, Savski venac

22:00h - 04:00h

Pop / Folk / Traditional music

250 People
Beograd Noću
Tavern Kod Ministra is located at No 14 Admirala Geprata Street, precisely at the entrance of the courtyard of Government of Republic of Serbia, after it got its name.
When we talk about ministers we can say that our minsters and politicians love tavern! We are already familiar with a fact that Serbian cultural and political elite is known as true bohemians and fans of taverns, the traditional ones and even modern ones. Just the right place to start a career as minister is tavern Kod Ministra.
And why not, since in tavern best friendships are made, as well as best ideas and moves. Allow yourself to be a bohemian and do not miss an opportunity to make your best moves of ideas precisely in tavern Kod Ministra.  Who knows, maybe you become one of them.
Every weekend tavern Kod Ministra is flooded with good spirits with famous people from sport, entertainment and politic. And of course in tavern Kod Ministra beautiful ladies are always here.
You will think that tavern Kod Ministra is yet another tavern, but once you enter and feel the magic of ministry, you will realize that place like this never existed in Belgrade.
Tavern Kod Ministra receives all members over 23 years old and has capacity of 250 people like National Parliament.
Interior of this tavern is for everyone's taste and needs. Here you have bar tables, high seating and tavern tables. There are also tables for bigger groups of people - for those who like to give a speech.
At tavern Kod Ministra there is no exception and every weekend until early in the morning ''members of Parliament''  are singing all night long. So change your constitution as it fits you, submit the act the way you want it only in tavern Kod Ministra.
For all of those who are coming by cars in tavern Kod Ministra, there is a private parking for all the guests. Anyhow, tavern Kod Ministra guarantees you unforgettable night with friendly staff, good atmosphere and even better prices.
Feel like minister, come to tavern Kod Ministra.
Tavern Kod Ministra
Average rating:
0 reviews
---
Reservations are mandatory.
You can make a free reservation using our call center or the online form.
Galleries - Tavern Kod Ministra
Mapa - Tavern Kod Ministra