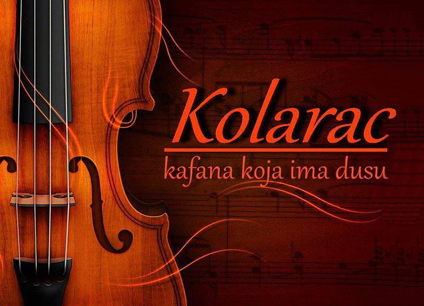 Studentski Trg 5
Beograd, Stari grad

22:00h - 03:00h

Folk

200 People
Beograd Noću
Tavern Kolarac is a tavern with long term reputation and tradition. Tavern Kolarac is located in the heart of Belgrade,  located at Studenski Trg. Even though location of this tavern is in downtown it's opened until 3 am, and without disturbing neighbors provides crazy parties all night long.
As fas as the music program in tavern Kolarac accent is on traditional music which absolutely completes bohemian concept of this place. In fact, first association of tavern Kolarac are remarkable wired musicians that are playing songs that you might even forgot, but zou are always glad to hear them. Wired musicians always make fabulous atmosphere. Guests of tavern Kolarac are have chosen tavern Kolarac knowing the fact that best fun is here. This is a gathering place of true bohemians. As far as for drinks, tavern Kolarac has wide selection of rakija and rakija made of quince is house specialties. Gusts can also enjoy foreign beers, as well as in wines form Serbia, Slovenia and Croatia. Positive energy is inevitable and smiley guests are dancing all night long.
Another advantage of tavern Kolarac is there is no bad place for dancing or for sitting. Wherever you are you will have a vies to entire tavern and still bi in center of attention. Tavern Kolarac accommodates 200 people.
Tavern Kolarac has exceptional staff and large number of regular guests who know what god party is. Incredible energy and god mood are inevitable here. This is really perfect place for relaxing fun and enjoyment with friends. Tavern Kolarac is just a place where you will always come back - because here, you can be yourself.
Tavern Kolarac
Average rating:
0 reviews
---
Reservations are mandatory.
You can make a free reservation using our call center or the online form.