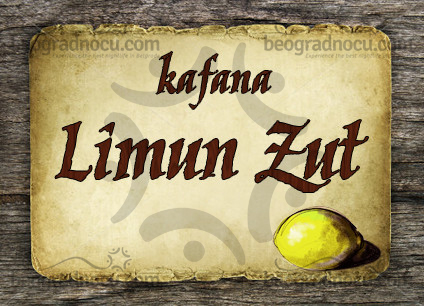 Dimitrija Tucovića 88
Beograd, Zvezdara

21:30h - 02:00h

Pop / Folk

100 Ljudi
Events
THURSDAY 28. September
Miloš Paunović od 20h
FRIDAY 29. September
Taške bend od 20h
SATURDAY 30. September
Taške bend od 20h
SUNDAY 01. October
Mala maca bend od 20h
TUESDAY 03. October
Miloš Paunović od 20h
Interior
Beograd Noću
Tavern Limun Žut is located in center of Belgrade, near Vukov Spomenik, at Zvezdara at No 88 Dimitrija Tucovića Street.
Tavern Limun Žut is opened seven days a week, from 9 am to 2 am. All that time, hospitality of staff is at your service and live music every day but Monday. The real fun starts at 8 pm and that is also time from when you have to have reservation.
On Tuesdays, wired bend ''Čeznem za lovom'' (''I yearn for money'') is in charge for god atmosphere, as well as on Friday, Saturday and Sunday. Whenever they hear a name of the bend, guests are delighted and very often they give them money. On Wednesday a master of keyboards Darko plays fol music an after each song, receive an applause. Four guitars are creators of god fun on Thursday. Night starts with pop-rock hits from Ex Yu and ends with folk music. Tavern Limun Žut has very reasonable and affordable prices, adjusted to everyone's pocket. Party on Thursday is enriched with promotion, when you can drink rakija for only 99 rsd.
Tavern Limun Žut is one of the rare objects in Belgrade that is separated for itself and interior and exterior are in ethno style. Tavern Limun Žut is designed as one big room, so every table has an excellent position and wherever you are you are always in center in detention.
Tavern Limun Žut
Average rating:
0 reviews
---
Reservations are mandatory.
You can make a free reservation using our call center or the online form.
Galleries - Tavern Limun Žut