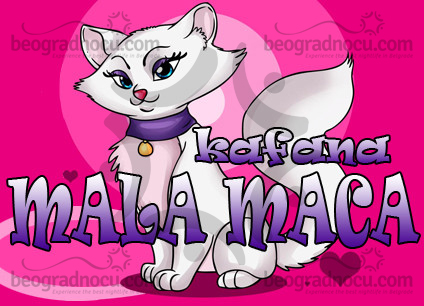 Ruzveltova 13
Beograd, Vračar

21:00h - 02:00h radnim danima, vikendom do 03:00h

Pop / Folk

100 Ljudi
Events
FRIDAY 31. March
Nikola Obradović od 22h
SATURDAY 01. April
Nikola Obradović od 22h
Interior
Beograd Noću
Tavern Mala Maca is located in town center, actually at Vračar, between Kalenić market and Bulevar Kralja Aleksandra Street, at No 3 Sinđelićeva Street. The entrance is from Niška Street.
In tavern Mala Maca from Thursday to Saturday live bend performances are organized ''from table to table''. Sometimes it looks like photography from an old Belgrade tavern. Every Thursday and Friday you can listen to live traditional music, while on Saturday you can listen to two guitar performances. Drinking and singing is not unusual here, sometimes you may even brake a glass and blame great atmosphere for it.  When song is great, everything is forgiven.
Tavern Mala Maca with its interior makes you feel like you are at home. Tavern Mala Maca has several big tavern tables, for larger companies, while there is always a place for smaller companies, that usually expends during a night.
In tavern Mala Maca, prices are very affordable, especially for those who like the old time parties. For 100 rsd you can drink and treat your friends, sou don't have to think about bill, you just have to relax and enjoy with your friends.
Every Wednesday, you can enjoy in pop rock gig, with two guitars and keyboards. Besides that, there is promotion of juice-vodka, gin-tonic and wide selection of rakija for only 99 rsd.
Due to reservation, you have to be there at 8 pm. We have told all reasons to come to this tavern and since it's accommodates small number of people, you hate to make reservation few day earlier.
Stop by and see for yourself in amazing time.
Tavern Mala Maca
Average rating:
1 reviews
Sep 12, 2021
Pravi kafanski provod!
---
Reservations are mandatory.
You can make a free reservation using our call center or the online form.
Galleries - Tavern Mala Maca