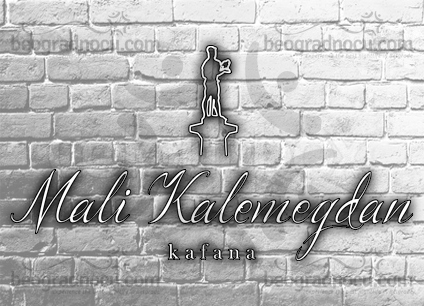 Veliki Kalemegdan 2
Beograd, Stari grad

21:30h - 03:00h

Traditional music

250 People
Beograd Noću
Tavern Mali Kalemegdan is located at No 2 Veliki Kalemegdan Street in most beautiful and biggest park in Belgrade - Kalemegdan, besides basketball courts.
Tucked in between trees in beautiful ambient, tavern Mali Kalemegdan is ideal place for summer to spent time with your friends.  Tavern Mali Kalemegdan accommodates 250 people and smiled and professional staff is always at their service.
Tavern Mali Kalemegdan has wide selection foreign and domestic drinks and of course very quality music.
What makes tavern Mali Kalemegdan different from others is unique garden and natural ambient downtown. Lovers of homemade wine, various kinds of rakija (plum,apricot,melon and others) and many other drinks can enjoy in fresh air with sounds of wired musicians. Concept of tavern Mali Kalemegdan is designed so it can fulfill all ideals and and dreams of one true bohemian.
Interior of tavern Mali Kalemegdan is true bohemian. But here, everyone can find its own place. From bar, tavern tables, bar tables all the way to booths. So wherever you are in this tavern you will always be in centre of attention.
Tavern Mali Kalemegdan is a place where everyone are welcomed and where you can enjoy in pleasant ambient with very affordable prices. During summer, garden is ideal solution for any kind of celebrations (birthdays, bachelorette parties, important dates), but it's also a place where you can be happy if you are sad.
A lot of definitions circles about this tavern, but for the staff of tavern Mali Kalemegdan, favorite one is where you enter alone and go out with 4 best friends. Besides best friends in tavern Mali Kalemegdan you can also find girlfriend, brother, sister, future husband, favorite bartender or musician. Many little things that make life easier you can find in tavern Mali Kalemegdan and their staff simply calls it MAGIC.
Tavern Mali Kalemegdan
Average rating:
0 reviews
---
Reservations are mandatory.
You can make a free reservation using our call center or the online form.
Mapa - Tavern Mali Kalemegdan