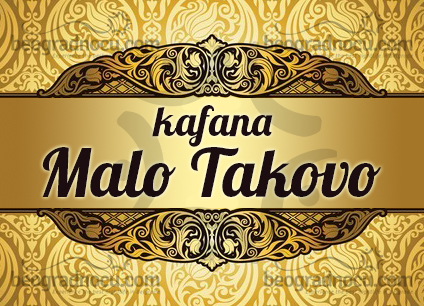 Bul. Despota Stefana 119
Beograd, Palilula

21:00h - 04:00h

Folk

250 People
Beograd Noću
Tavern Malo Takovo is located at No 119 Bulevar Despota Stefana Street and is one of the oldest taverns in Belgrade with long bohemian and social tradition exists 22 years. All these years, same owner has been working on maintaining and improving quality of offer of this significant object in capital. Tavern Malo Takovo can accommodate 250 people and is opened from 9 pm to 4 am in the morning and music organized here just for you brings you true spirit of tavern every day. Tavern Malo Takovo is one fine and tempting object and here during a day here you can enjoy in your morning cup of coffee or just read your newspapers or chat with friends while Belgrade is in a hurry next to you. Tavern Malo Takovo is ideal place for for visit, whatever time of day you choose. Very pleasant staff and ambient will make you feel as dearest guests. Tavern Malo Takovo nicely communicates with different affinities of its guests and at this place you will always be welcomed at most pleasant way - you will always want to come back. With tavern Malo Takovo you will be witnesses of new bohemian era, that will be good teacher to all generations and represent tavern to them in right way. Here you can be able to enjoy in beautiful melodies and emotions and every event will be memorable.
Tavern Malo Takovo has its own parking space which is good news for all of those who are planing to go out by car, or maybe motorcycle, depending on the affinity. All fans of folk music will be enjoying in tavern Malo Takovo, since everything here is designed and subordinated to your pleasure. Prices are very affordable and service is very high quality - you will love this place. Tavern Malo Takovo has tavern tables and concept is designed, wherever you are you are always in center of attention.
Tavern Malo Takovo is excellent place for all present and future bohemians as well as for those who are planning  to meet with bohemian lifestyle. And with offer of tavern Malo Takovo it will not be difficult.
Tavern Malo Takovo
Average rating:
0 reviews
---
Reservations are mandatory.
You can make a free reservation using our call center or the online form.
Mapa - Tavern Malo Takovo