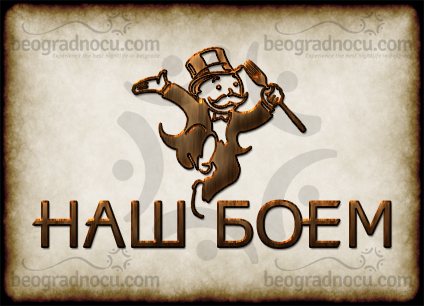 Petra Palavičinija 15
Beograd, Voždovac

22:00h - 04:00h

Pop / Folk

100 Ljudi
Interior
Beograd Noću
Tavern Naš Boem is located at the begging of Blue Bridge (Plavi most) at No 15 Petra Palavčinija Street at Medaković.
Tavern Naš Boem has long tradition and exists for over 20 years. In tavern Naš Boem many famous singers have performed, such as the late Luis, Boban Zdravković, Vanesa, Marinko Rokvić and many others.
Tavern Naš Boem has prepared for you live bend performances and singers that will entertain you from 10 pm to 4 am in the morning. Music in this tavern is ideal for fun and here you can mostly hear pop and folk melodies. You can expect many surprises.
In offer of this great tavern with long tradition, you can expect national cuisine specialties made of carefully selected ingredients. In tavern Naš Boem You can eat barbecue, various salads, gulaš (made of beef tales), grilled rolled veal, but as well trout and squid. Whatever you desire to eat, tavern Naš Boem will serve you at table at very decorative and with love, what is most important for their customers. As soon as you stop by in tavern Naš Boem you will become its regular guest.
Besides exceptional food and wide selection of quality drinks you will have unforgettable moments.
Interior is beautiful, made in spirit of old taverns with plaid sheets and metal ashtray. Accent here is on delicious food and great time with their guests. Laughter, joy, and happiness is always present in tavern Naš Boem. Tavern Naš Boem is true peace of art and will good song it will make you spend amazing time.
Tavern Naš Boem have air conditioned space and accommodates 80 people with garden around the restaurant with another 20 seats. Of course, for all guests of tavern Naš Boem there is free Wi Fi.
Friendly staff is always at your service, so come here and spent time with tavern Naš Boem.
And also one important thing in tavern Naš Boem are prices that are very affordable and all you have to bring is smile!
Tavern Naš Boem
Average rating:
1 reviews
---
Reservations are mandatory.
You can make a free reservation using our call center or the online form.