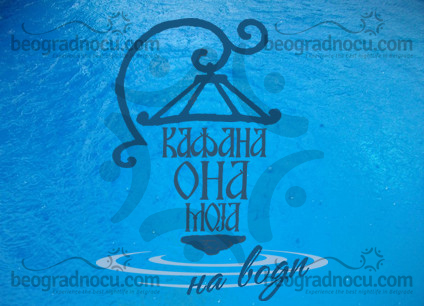 Savski nasip bb
Beograd, Stari grad

22:00h - 03:00h

Pop / Folk

200 People
Beograd Noću
Tavern Ona Moja Na Vodi is newly opened tavern in Belgrade, located near Brankov Bridge on the city side. Tavern Ona Moja Na Vodi is summer version of most popular Belgrade's tavern Ona Moja located at Vračar. If you had god times at tavern Ona Moja then you should definitely transfer to river and continue god party.
Summer is ready for tavern on river. Tavern Ona Moja Na Vodi is ideal for all types of people and satisfies everyone's needs. It's a perfect taste if you want to suffer, or to celebrate or you just wanna relax yourself with your friends and take a break from daily rush. It's saying: ''If it's used properly, tavern is the best place in the world.'' Tavern Ona Moja Na Vodi precisely wants to be - best place in the world. To its guests tavern provides maximal enjoyment in true delights of bohemian life. Wide selection of alcoholic drinks at affordable prices will make you have best time ever in this tavern. On ''must try'' list are definitely excellent wines and rakija.
Depending on which day you visit tavern Ona Moja Na Vodi you can enjoy in pop and folk sounds and you will definitely not regret. Music program satisfies high standards and provides maximal pleasure to its guests.
Service in tavern Ona Moja Na Vodi is impeccable, guests are always in a mood and every night is a story for itself!
Tavern Ona Moja Na Vodi works even five days a week , from Wednesday to Sunday and every day is absolutely amazing.
Tavern accommodates 200 people. ''Unlike your family, in tavern people like you because of your flaws, not your virtues.'', so everyone is welcome and loved. Do not miss an opportunity to enjoy in the most beautiful river tavern.
Tavern Ona Moja Na Vodi
Average rating:
0 reviews
---
Reservations are mandatory.
You can make a free reservation using our call center or the online form.
Mapa - Tavern Ona Moja Na Vodi